FROM HER HOME IN TBILISI, CHIORA TAKTAKISHVILI LL.M.'19 KEEPS HER SYRACUSE CONNECTION STRONG
During the visit of members of the Georgian Bar Association (GBA) to Syracuse on September 15, it was inevitable that Chiora Taktakishvili's name was mentioned.
After all, it was the LL.M. Class of 2019 Taktakishvili who introduced GBA President David Asatiani and Executive Director Giorgi Tchekhani to Assistant Dean of International Programs Andrew Horsfall L'10. This introduction led to a fall visit to Syracuse and the signing of a Memorandum of Understanding to promote scholarly exchange and cooperation among Syracuse Law, Syracuse University, and GBA.
"Chiora was the linchpin of the connection," says Horsfall.
"GBA is a relatively young organization as compared to the American Bar Association," explains Taktakishvili, who has worked with GBA on policy and legislative issues in the past. "To deepen ties to the United States and GBA's understanding of the US rule of law and civil society functions, Executive Director Tchekhani is interested in a cooperation plan with American universities. I was happy to help introduce GBA to the Syracuse University College of Law, and I am pleased to see the fruits of that introduction."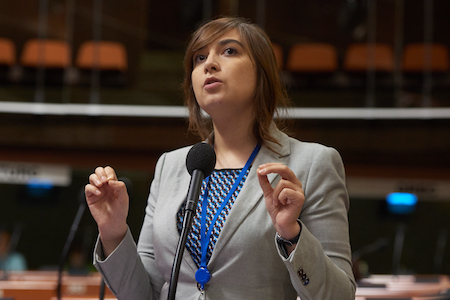 "WHAT I WANTED TO DO"
Assisting her nation's bar association is just one of many initiatives Taktakishvili has pursued since returning to her native Georgia after graduating with her master of laws degree, with a specialization in international human rights law, and completing her postgraduate work experience at Columbia University's Institute for the Study of Human Rights.
"I'm now working as a Senior Researcher at Policy Daily LLC, a policy consultancy company based in Tbilisi, where I help Georgian and foreign NGOs with organizational development training and non-discrimination policies," says Taktakishvili, who also holds a law diploma from Ivane Javakhishvili Tbilisi State University and a master's in public law from Université Paris 8.
Taktakishvili's current work leverages not only her knowledge and experience of human rights and American law but also her previous government experience. From 2004 to 2008, she was the head of the Georgian Ministry of Education and Science Legal Department, and from 2008 to 2016, she was a member of the Georgian parliament and served as the First Deputy Chairperson of the Legal Issues Committee, a Deputy Chairperson of the Human Rights Committee, and a member of the parliamentary delegation to the Council of Europe.
"Chiora is a burst of energy—

"engaged and responsive. She gets it."
In addition to her research position at Policy Daily, Taktakishvili is a guest lecturer at Ilia State University, where she teaches a course on "Emerging Technologies from a Constitutional Law Perspective" to master of laws students. Taktakishvili's course is inspired by one she took at Syracuse from the Hon. James. E. Baker. "That course was on emerging tech and global threats, but we also looked at artificial intelligence and its effects on human rights, collection of data, and privacy," Taktakishvili recalls. "Judge Baker's class was so impressive to me. My opening lecture always acknowledges my experience at Syracuse Law and especially Judge Baker's class." Taktakishvili adds that her current combination of policy and academic work is "exactly what I wanted to do."
"REALLY HELPED ME"
Taktakishvili also benefitted from Syracuse's writing instruction. "When I joined the LL.M. program, I wanted to bolster my writing and research skills, and I was always looking for classes with lots of papers to write. These classes have really helped me."
Specifically, Taktakishvili's training at the College of Law has helped her to co-author a new book (with Giorgi Beraia, Davit Zedelashvili, and Maia Kopaleishvili) that further illustrates her extensive knowledge of rule of law matters.
Funded by a USAID Promoting Rule of Law in Georgia (PROLOG) grant, Right to Fair Trial: Institutional Guarantees for the Independence and Impartiality of Judges (Free University of Tbilisi, 2021) is a comparative analysis of the U.S. Supreme Court, European Court of Human Rights, and Constitutional Court of Georgia case law concerning the independence and impartiality of the judiciary.
"Independence and impartiality standards for tribunals and judges is the most pressing issue in Georgia currently," Taktakishvili explains. "I'm happy that lawyers and students will now be able to learn more about the American and European standards for fair trials in their own language."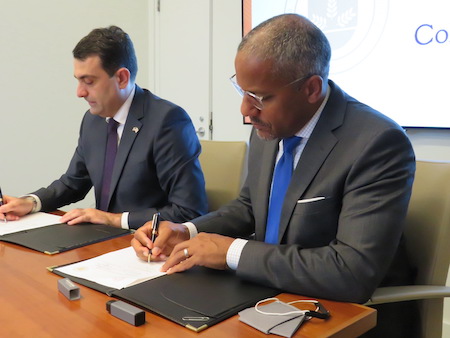 "SHE GETS IT"
Horsfall notes that Taktakishvili remains close to the master's degree program in other ways. "This year, we tapped Chiora to help with an LL.M. Orientation Zoom call between program alumni and new students," he says. "She's always happy to give her perspective. Chiora is a burst of energy—engaged and responsive. She gets it."
Notably, this year, when two new Georgian students—Nino Elbakidzeand Nana Gochiashvili—joined the master's degree program, they turned to Taktakishvili for advice.
"They asked about how to get settled, what to expect—and the Syracuse winter," she recalls. "I was happy to share my experience. I told them I actually enjoyed the Syracuse winter, as well as the Finger Lakes and the fall colors. I didn't really know Syracuse before I went, so I know how they were feeling."
Taktakishvili's perspectives are also critical for the Syracuse University Law Alumni Association, where she serves as both a board member and a member of the Law Honors Committee.
"Having master's degree alumni on the SULAA Board offers a nice mix of experiences. After all, we shared so many classes and professors with the J.D. students," Taktakishvili observes. "It was also a great honor to be involved in this year's alumni awards. It was an excellent opportunity for me to learn about so many of Syracuse's bright alumni."
"Despite living far from Syracuse now, Chiora remains enthusiastically engaged with SULAA and the College of Law, and we're all the better for it," says Director of Alumni Relations Kristen Duggleby. "It's important to have SULAA reflect the perspective of master's degree students. I hope her involvement and counsel inspire future LL.M. graduates to do the same."