Sandeep (Sandy) Qusba L'94 and Dawn Rhodes L'94 could almost say they met on the first day of law school—but actually, they met even before classes had begun. They both were part of a program for students interested in international law that began a week before the rest of the law school students arrived on campus. Sandy had been in Syracuse for several days before the program began. During a tour of the law library, "Sandy was looking to socialize," Dawn remembers. "I was interested in learning about the library, like where the copy machine was, and he was talking about getting a group together to go out. He was very distracting," she laughs.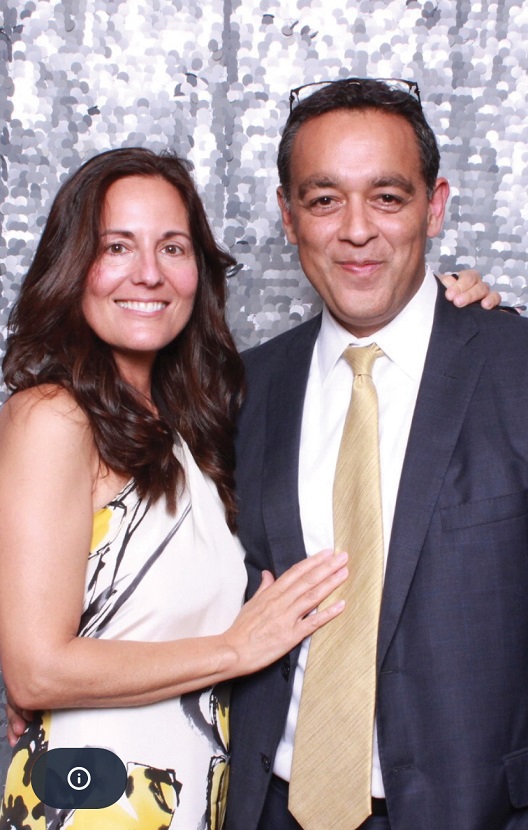 Sandy and Dawn, and Dawn's roommates, who were SU graduate students, ended up going to Faegan's Pub that very night. When law school began in earnest, Sandy and Dawn had all their classes together. They became study buddies, and within a month were a couple. Married since 2000, Sandy and Dawn live in New York City and are parents to two daughters, Aryanna, a student at Dartmouth College, and Cereese, a high school senior heading to Cornell University in the fall.

Dawn grew up in Northwest Indiana and earned a bachelor's degree from the Kelley School of Business at Indiana University. She first thought about a career in law as a high school student and remembers a few people (including her mother) saying it might be a good fit for her personality. "I liked to push back on things," she says. In law school, she found criminal law classes fascinating. Professor Travis H.D. Lewin was her coach on the National Trial Team and a big influence. "He made the subject of evidence compelling," she says. After graduating, Dawn became an Assistant District Attorney, a position she occupied in the Bronx for eight years, working in both a trial unit and an investigations unit. Now, she is in the final stages of writing a novel, a project she has been working on for several years.

Sandy grew up in Avon, CT, although he spent a few years in Syracuse as a child while his father worked for Crouse-Hinds Company. Sandy was a political science and philosophy major at Tufts University and was drawn to the College of Law in part because of SU's strong philosophy department. While in law school, he took graduate-level philosophy courses which enriched his study of law, as did his close connection with Professor J.M. Donnelly, who taught Philosophy of Law and wrote many jurisprudence articles.

It was through Professor Donnelly's courses in commercial transactions and bankruptcy law, however, that Sandy became fascinated with the restructuring practice. "It really drew me in, learning about the philosophical underpinnings of Chapter 11," he says.

Sandy is a partner at Simpson Thacher & Bartlett in New York City, where he heads the firm's restructuring practice, and enjoys the challenge of "getting everyone around the table to hash things out." The term "everyone" here includes equity holders, secured lenders, unsecured bondholders, trade creditors, and others, Sandy explains. "Orchestrating a restructuring among all these different constituents requires negotiating with groups, understanding their leverage and goals."

Sandy and Dawn have many good memories from their College of Law days, including hiking in the Adirondacks on weekends, and walks with their dog and an eclectic group of Syracusans (and their dogs), beginning at 4 p.m. at Barry Park each day.

With their daughters now getting ready to choose their own career paths, Sandy and Dawn are hoping they'll consider law. "They both recognize it can be beneficial in many areas of life," Dawn says. "It's there if you want to practice law, but it's also foundational for other things you want to explore and do."