Alums Reflect on Their Journey from Law School to the C-Suite
The College of Law has produced extraordinary leaders throughout our history. Today, our alumni include the President of the United States, elected and appointed officials at all levels of government, judges, public servants, C-suite business and nonprofit executives, entrepreneurs, writers, managing partners and law firm chairs, and so many others in positions of influence.

In past Stories Books, we have examined how College of Law alumni have navigated their way to C-Suites and other positions of leadership and explored the impact of their law degree on their current position.

This year, our fourth such feature, we are looking at another type of executive leadership: judges. Hundreds of Orange lawyers serve or have served on the bench, at the local level all the way to Federal courthouses throughout the country. We spoke with three judges to learn how the College helped pave the way to their judicial chambers and hear about the challenges they are facing as they preside over busy dockets.

What else could make these judges even more special? Their daughters are also graduates of the College of Law!
THE HON. ROBERT MARIANI L'76
United States District Court of the Middle District of Pennsylvania
When Judge Robert Mariani L'76 arrived at the College of Law he was intent on studying and pursuing labor law. "I saw it as a way to help our workforces who are of modest means and modest origins, who deserve protection and to be compensated to be able to live a decent life," Mariani says. "It was a principle that was passed down to me by my parents and grandparents." Mariani was born and raised in Scranton, PA, a center of coal mining and an area with "a rich labor history," he says.

Mariani remembers many great professors, in particular Professor Robert Koretz, who taught labor law. "He had a wealth of knowledge in this area of law, and he was extremely good to me," Mariani says. Mariani went on to become Professor Koretz's research assistant. After graduating from the College of Law, Mariani returned to Scranton and practiced labor law for 34 years. In 2011, President Barack Obama appointed Mariani to the United States District Court of the Middle District of Pennsylvania.

"It was a whole new world," Mariani remembers. "I was in the thick of the criminal justice system. I accepted the challenge." While he has served as a judge for more than a decade, there are aspects of the job that never get easier, he says, primarily "the extreme difficulty of having to sentence someone to prison. It can be gut-wrenching. Sentences in the Federal Court System can be severe and imposing them is an enormous responsibility."
COVID-19 presented many problems for the courts, creating a disruption of the legal system, and a fair amount of backlog, Mariani says. "It made many types of proceedings extremely difficult to carry out." One change made during COVID-19 that has remained in place is how juries are selected. Whereas before COVID-19 up to 90 people may have been in a room together during jury selection, a new process staggers the groups, so they are more likely to be in groups of 30.

Mariani stays closely connected to the College of Law and has hired several graduates as law clerks over the years. "I try to give them this opportunity that's important in establishing their legal career," he says.

He was pleased when his daughter Jeanne Michele Mariani L'16, G'16 decided to come to Syracuse. "I encouraged her," he says. "It was her choice of course, but my experience at Syracuse was a very good one. People were very helpful to me. And I shared that with her."

Jeanne Michele Mariani is counsel for General Motors and works in global privacy and cybersecurity. She is based in Philadelphia.
THE HON. MICHELE PITMAN L'88
Associate Judge of the Circuit Court of Cook County, Illinois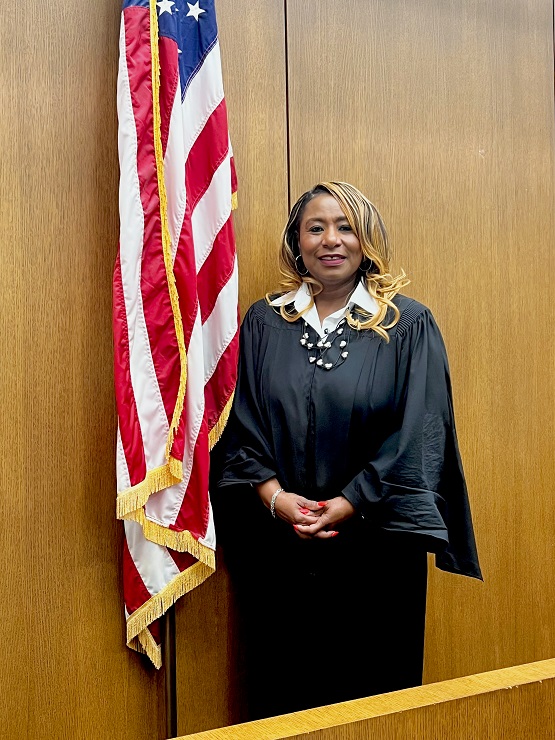 From a young age, 12 or 13, Michele Pitman L'88 knew she wanted to be a lawyer. She traces the interest to the old TV show Perry Mason, which she watched as a child. "I was interested in how the protagonist developed an argument and used that to convince jurors. I got caught up with the advocacy part of it."

Pitman, who has served as Associate Judge of the Circuit Court of Cook County since 2001, grew up on the South Side of Chicago. She headed to Northwestern University to study Political Science, always with the mindset of pursuing her law degree after graduation.

She applied to the College of Law and was accepted in 1985 and headed east to Syracuse, a city she'd never been to. She found Syracuse Law to be a perfect fit. "Law school is tough," Pitman said. "What I loved about it, is that it gave me the education and the training to do what I wanted to do." Her favorite course was Constitutional Criminal Procedure, and she also enjoyed Torts. She knew all the coursework would be essential once she launched her career. "Law school was a time to learn my craft. I learned the law, and I learned to advocate for victims." At the College of Law, she was notes and comments editor of the Syracuse Journal of International Law and Commerce 1987-88, and the plaque marking this honor still hangs in her judge's chambers.

Pitman began her career as Assistant States Attorney in the Cook County Attorney's Office, and over the next 13 years prosecuted gang and narcotics cases. She went on to become Chief of the Municipal Division and in that role was responsible for all the Municipal Courts across Cook County. Today she presides over many high-profile murder cases in the Sixth Municipal District. She also teaches newly elected and appointed judges about running a criminal courtroom, always emphasizing "you want the trial to run smoothly, with procedural fairness."
"COVID-19 had a big effect on the court system," Pitman says, noting that the State of Illinois suspended the right to a speedy trial in 2020, citing the "extraordinary circumstances of the pandemic." "For criminal defendants the pandemic was a very tough thing. It had the real potential of infringing on their constitutional rights." For a time, jury trials were out of the question. COVID-19 was running rampant in jails, and "I could not put 12 people in a room together," Pitman says.

During COVID-19, she and other Illinois judges released many prisoners who were not accused of violent offenses. Hearings were held via Zoom, even though "not many of us had ever heard of Zoom," she says. Today, Pitman's courtroom reflects a hybrid model. During trials, everyone is in the courtroom. But for status checks, for example, virtual meetings are becoming the norm. And from Pitman's perspective, this is a good thing.

"At a bond hearing, some people are at work. I see them in their McDonald's hat, and they go into a closet to meet with me over Zoom, to log into court proceedings. This is good, they are at work." While before the pandemic, 15 or 20 defendants would come in on a bus for lengthy court proceedings, now status checks and discovery can be handled virtually, which in some ways is more efficient for all parties. It is a change that the tragedy of COVID-19 brought about, and ironically, a change for the better, Pitman says.

When Pitman's daughter Ursula Simmons L'19 was applying to law schools, Pitman encouraged her to look at the College of Law. "I told her you'll get a solid legal education, and you'll pass the bar the first time, which I did, and she did." Pitman said she was "very pleased" when her daughter chose to follow in her footsteps and head to Syracuse. Simmons is now Assistant Chief Counsel at the U.S. Department of Homeland Security.
THE HON. BERNADETTE ROMANO CLARK L'89
Supreme Court Justice for the Fifth Judicial District of New York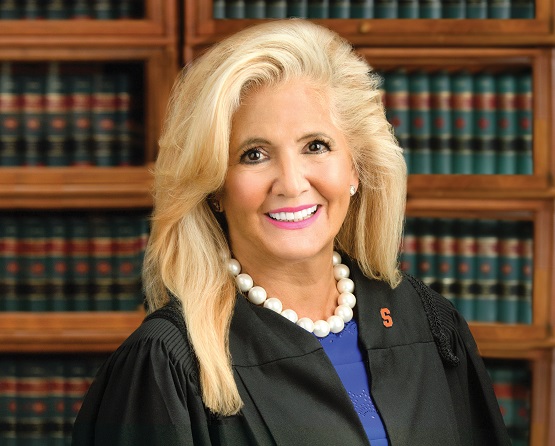 It's been more than 30 years since Bernadette Romano Clark L'89 graduated from the College of Law, but she talks about her law school days with such joy and enthusiasm, it seems like she just walked across the stage for her diploma.

"I can tell you unequivocally that law school was amazing. I couldn't wait to get there in the morning. I just soaked it all up. It wasn't a chore."

Clark, Supreme Court Justice for the Fifth Judicial District of New York, entered the College of Law as a non-traditional student. She had graduated from St. Mary's College of Notre Dame and then worked for 12 years in sales and marketing for a pharmaceutical company. After she attended brother Bernard J. Turi L'85's graduation from the College of Law, Clark decided that's what she wanted, too.

Since she had not been in a classroom for some years, Clark enrolled in the New York Legal Education Opportunity Program (NY LEO), an intensive program that runs the summer before classes officially begin. Emil Rossi L'72 was the professor. "I hung on his every word. He is my hero," Clark says.

Early in the first semester, Clark met fellow classmate Julie North L'89. North was living in Clinton, NY at the time and Clark was living in nearby New Hartford. They began commuting together each day, meeting at the Westmoreland Thruway entrance. The ride began a friendship that continues to this day.
Clark was impressed by North's legal acumen, even when they were just beginning as students. "I would have the opportunity to question her," she says. "It's like the day at law school started an hour early." This year, in March, Clark and North both returned to the College of Law to judge the 45th Annual Lionel O. Grossman Trial Competition (see story below).

Clark began her career at Bond, Schoeneck & King. In 1994 she was appointed First Assistant District Attorney in Oneida County, and in that position started the county's Special Victims Unit. She became the first elected female judge for Oneida County in 2000. She is also the first female Supreme Court Justice for the Fifth Judicial District of New York.

One of the most significant changes Clark says she has witnessed throughout her tenure is the effect of the COVID-19 pandemic. The pandemic required significant changes in how courtrooms operated, with online platforms such as Zoom and Teams taking the place of in-person hearings. "It was very challenging," Clark says. "It was difficult, but it was necessary." The logistics of the virtual hearings could be frustrating, with the judge in chambers, a court reporter in another room, and the witnesses in their homes. Internet interruptions or other issues sometimes required backtracking. Clark missed being in the same room, with attorneys and clients. "I like the personal interaction," Clark says, including the ability to see a person's facial expressions and demeanor, and having the attorneys interact with each other. "If everyone is in the courtroom, there are more opportunities to resolve the case. And my
goal is to resolve the case."

Clark says she has noticed a change in the attitude of attorneys who, early in the COVID-19 days, did not want to take depositions virtually, and now in many cases prefer to. "It's saving with travel, it saves the client money, and the attorneys can handle more cases in a day," she says.

For Clark, returning to the College of Law to judge advocacy competitions is a joy, and a chance to reflect on her education. "That's why I like to give back to the College of Law. I feel like I owe the College so much," she says.

Clark was proud that her daughter Alexandra J.L. Romano L'21 followed in her mom's footsteps. Romano is now with the Boston firm Melick & Porter.
College of Law Moot Court Stars and Classmates North and Clark Return to Syracuse Law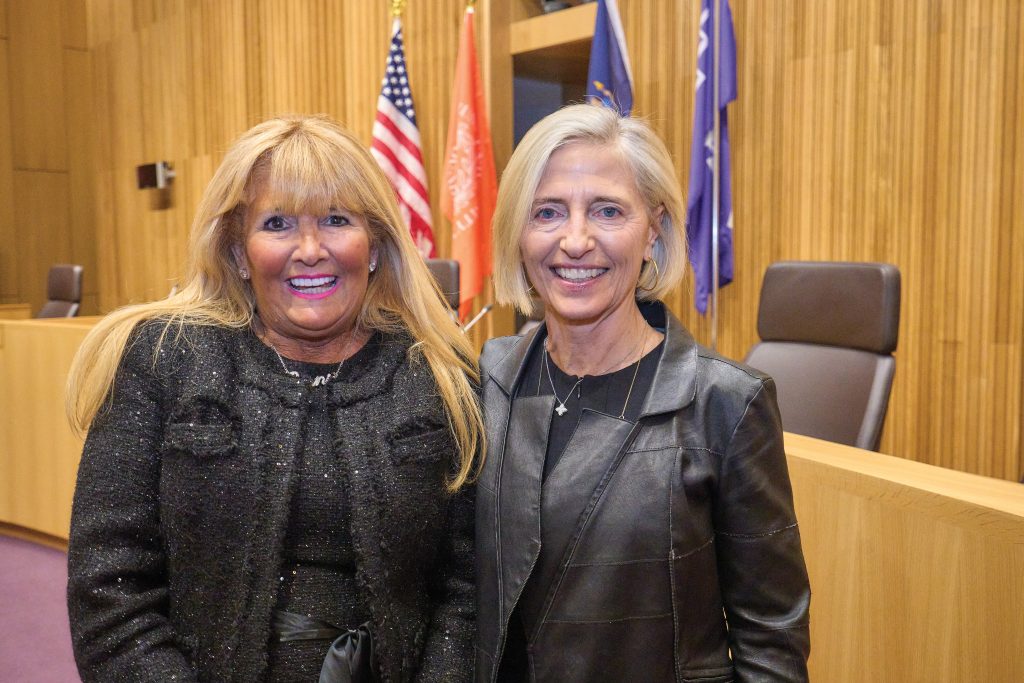 Julie North L'89 says she wasn't one of those people who always dreamed of being a lawyer. "I was kind of naïve, and there weren't any lawyers in my family," she says. After graduating from Hamilton College with a bachelor's degree in psychology and history, North began working in the development office for Hamilton. She applied to law school, confident in her writing and public speaking skills. She found it was the perfect fit. "I loved every class I took," she says. "I did well because law school really played to my strengths."

North is retired now after a long career at Cravath, Swaine & Moore in New York, where she was a partner. Her practice included antitrust, general commercial, mergers and acquisitions, and securities and shareholder derivative actions. She advised clients on antitrust regulatory clearance issues in connection with numerous mergers and acquisitions. North says working with Cravath also taught her the importance of non-profit and probono work and she continues to lend her expertise as a board member for a number of non-profit organizations.

North remembers first meeting Clark at the College of Law and observing how she commanded a room. "She had really interesting observations," North says. She remembers well the legal conversations they would have on the New York State Thruway, some so compelling that they would miss their exit. "We were lucky to have each other," she says. One attribute that still stands out to North is Clark's effort to "see the other side" when working on a case. "That's the way she would think about things. She would listen and work to understand the other side."

In law school, North especially enjoyed her Moot Court experience, and being coached by
Professor Christian Day. "I definitely learned the skill of thinking critically and persuasive writing," North says. "I remember Chris Day sitting with me, and looking at my argument and saying, 'How can you make this more persuasive?'" North returned to the College of Law in March, guest lecturing with Clark in Professor Kristin Walker's L'08 class, and again to judge the 45th Annual Lionel O. Grossman Trial Competition alongside her moot court partner the Hon. Bernadette Romano Clark. It was North's first time seeing the new law school, which she deemed "amazing."
While fully retired from the practice of law, North still stays involved in the discipline, teaching a course each Spring semester at Columbia University Law School, titled "The Nuts & Bolts of Securities and Litigation: The Practitioner's Perspective." It's a project she finds very fulfilling.

"I liked seeing the joy in other people, realizing that if you know the facts and you can marshal them, you can make a persuasive argument," she says. "I like helping other people refine the skill of lawyering."