By Dafni Kiritsis '97, Director of Externships and Career Services
EXTERNSHIP PROGRAM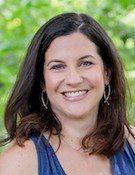 I'm very excited to have joined the College of Law as Director of Externships and Career Services. In this position, which I started in June 2021, I report to the Assistant Dean of Career Services, and I will help to design and implement programs and services for the Office, in part by expanding our already robust Externship Program. In doing this, I look forward to using my diverse legal and human resources experiences and to engaging with our alumni base, which already provides such extraordinary support to our externs.
A little about myself. I'm a Syracuse native, the daughter of Greek parents who immigrated to Central New York from Northern Greece. An Orange alumna, I graduated from SU in 1997 with a B.A. in International Relations and French Language, Literature, and Culture, and a minor in Women's Studies. I also met my husband as an undergraduate!
After earning my J.D. in 2000 from Albany Law School, I began my law career as an associate in the Albany, NY, firm of Whiteman Osterman & Hanna LLP. I then joined Green & Seifter (now Bousquet Holstein PLLC) as a senior associate and stayed with the Syracuse firm for nine years, practicing employment law and litigation.
I then worked as an attorney for the US Department of Veterans Affairs, Office of District Counsel for eight years, providing counsel, conflict resolution, and legal representation to VA Medical Center facilities in the North Atlantic District.
In 2018, I returned to my alma mater as a Senior HR Business Partner, counseling senior leaders in the University's Business Finance Administrative Services group, as well as College of Law staff and faculty.
As I pick up the reins of the Externship Program, I thank my colleagues for so ably overseeing it during such a challenging—and, we hope, unique—time in its history. The coronavirus pandemic disrupted work for almost all of us, and that's no less true for our spring 2021 externs. Nevertheless, and with the invaluable assistance and patience of our hosts and alums, we continued to provide our students with critical applied learning experiences through remote placements.
"As I pick up the reins of the Externship Program, I thank

my colleagues for so ably overseeing it during such a

challenging—and, we hope, unique—time in its history."
Deborah O'Malley, the 2020-2021 NYCEx and PhillyEx Director, notes that even though they were not on-site with their employers, our students impressed their site placement supervisors. "Each participant in the NYCEx and PhillyEx programs for the spring semesters received excellent final evaluations," she says.
The New York City/Philadelphia course seminar was also continued via Zoom, with guest lectures from Everett Gillson L'85, Chief Administrative Officer, Defender Association of Philadelphia; Kimberly Lau L'06, Partner, Warshaw Burstein LLP; Kevin Belbey L'16, Sports Media Agent, Creative Artists Agency; and Jesse Feitel L'16, Media Associate, Davis Wright Tremaine LLP.
Overseen by Professor Terry Turnipseed, Faculty Director of Externship Programs, the Washington, DC, program also continued its strong placement track record, with DCEx placing nine students across government, nonprofit, judicial, and corporate organizations. "I was quite pleased with the quality of the positions," he says. "For instance, we placed five participants at the US Department of Justice, including two in the Tax Division for the first time."
All DCEx placements were remote, except an in-house placement at Orbis Technologies, hosted by Erin Lawless Miller L'10, Vice President of Corporate Business Services. Rachel Stanley Nguyen L'07 and Joe Di Scipio L'95 were among alums offering insights and advice during the DCEx seminar series.
Looking to the future, I look forward to executing Dean Boise's vision of integrating our Externship Program within the Office of Career Services as part of our efforts to achieve the highest level of placement outcomes for our students.
Because the number of students in the JDinteractive program is the highest it has been since JDi was implemented, the main focus will be on finding these students' top externship opportunities.
This coming year, we will not only continue to grow our externship opportunities for our residential students, we will place our JDi students in their first externships of their law school journey. We'll also begin to implement our Third Year Away program, allowing students to spend their final year of law school in a city of their choice. These 3L students will earn their final credits in a combination of externship placements and online classes.
I look forward to working with our alumni on all these fronts. College of Law alumni have been an integral part of our student's successes in our Externship Program—and post-graduation, too!
---
Spring 2021 Externship Placements
CNYEx
City of Syracuse
Alumni Host: Kristen Smith L'05, Corporation Counsel
Hon. Deborah H. Karalunas L'82, Presiding Justice, Supreme Court of the State of New York, Commercial Division (Onondaga County)
Hon. Thérèse Wiley Dancks L'91, US Magistrate Judge, Northern District of New York
Nave Law Firm
Alumni Host: Dennis Nave L'14, Managing Partner
SRC
Alumni Host: Mary Snyder L'03, Executive Vice President, General Counsel
DCEX
Insured Retirement Institute
Orbis Technologies
Securities and Exchange Commission, Division of Trading and Markets
US Department of Housing & Urban Development, Office of Hearings & Appeals
Alumni Host: Hon. J. Jeremiah Mahoney L'69, Chief Administrative Law Judge
US Department of Justice, National Security Division
US Department of Justice, Office of Legal Policy
US Department of Justice, Tax Division
US Department of Justice, US Attorney's Office for the District of Maryland, Southern Division
NYCEX
Goldman Sachs
Alumni Host: Timothy Paul L'84 Chief Fiduciary Officer, Goldman Sachs Trust Company
Northern Manhattan Improvement Corporation
Alumni Host: Kimberly Warner L'14, Assistant Director for Housing
Shihadeh Law PC
Sony Music Entertainment PC
Superior Court of New Jersey
Alumni Host: Hon. Rodney Thompson L'93, G'93 Presiding Judge, Family Division
PHILLYEX
York County (PA) District Attorney's Office
---
Capital Service: Professor Terry Turnipseed Steps Down from DCEx
Professor Terry Turnipseed—Faculty Director of Externship Programs—has stepped down as the Director of the Washington, DC, Externship Program after a spectacular five-year tenure in that role.
Conceived to develop students' professional skills inside and outside the classroom in the capital's diverse legal community, DCEx was launched in January 2014. From the start, the program leveraged Professor Turnipseed's substantial knowledge of DC as a graduate of Georgetown Law and former wealth management and estate planning expert at Covington & Burling, Deloitte & Touche, and elsewhere.
With Professor Turnipseed's guidance, over the past five years students have been given a taste of the capital's unique legal and professional environment through placements at the White House, US Department of Justice, US Securities and Exchange Commission, FBI, NASA, United Nations, Planned Parenthood, Federal Communications Commission, and elsewhere, as well as at world-class law firms and consultancies such as Arnold & Porter, DLA Piper, K&L Gates, and Ernst & Young.
DCEx will build upon this strong tradition, drawing from Syracuse Law's extensive Capital Region alumni community to offer unparalleled applied learning and networking experiences and to provide Distinguished Guest Lecturers for "The Washington Lawyer" seminar program, another of Professor Turnipseed's DCEx innovations.
As Ethan Paraboschi L'19 observes, "I will tell you: DCEx is a fantastic opportunity. Not only does it offer great networking opportunities, it gives you the chance to visit some of the more exclusive buildings and offices in the US!"