Our Rising Stars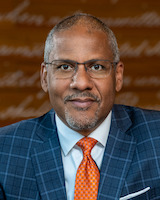 When I became Dean of this great College five years ago, one of my goals was to amplify and promote the thought leadership of our extraordinary faculty. I witnessed professors and researchers whose scholarship in critical and emerging areas of the law was already exemplary, but not as well-known or understood as it could be.
As our roundups of faculty publications illustrate, our faculty's scholarly reputation is not only as robust as ever, it is sought-after, visible, and rising.
For instance, the two main features in this Yearbook exemplify our faculty's status as influential scholars. As I write this in midsummer, two stories that remain in the news cycle are the rising death tolls from climate disasters in the Pacific Northwest, Germany, and China and the push for long-term care reform in the wake of the coronavirus pandemic. Our lead authors—professors Mark Nevitt and Nina Kohn— are highly in-demand scholars and commentators on the security implications of climate change and elder care, respectively.
"Our students benefit immeasurably from a faculty

who are thought leaders, dynamic educators, and productive scholars."
In this issue, Professor Nevitt widens the lens on the impact of climate change, offering a portrait of three global "hotspots" that will dominate the "climate-security century." One of his research questions— "What is the true pace of climate change in the Arctic?"—is especially prescient given the recent Pacific Northwest "heat dome" pushed as far north as Canada's Yukon Territory. In "Long-Term Care After COVID," Professor Kohn addresses "the dangers of the current system" and offers her own prescriptions for reform.
Of course, our students benefit immeasurably from a faculty who are thought leaders, dynamic educators, and productive scholars. As demonstrated in this year's review of our Strategic Research Institutes and academic programs, an engaged faculty provides many meaningful applied learning opportunities for students.
Whether writing intellectual property reports for startups, advocating for vulnerable populations through our clinics, earning praise for their professionalism from externship hosts, or excelling in advocacy competitions, our students are guided toward a bright future by professors whose intellectual rigor is matched by their expertise and care in the classroom and beyond.
I am grateful to our staff who have worked diligently throughout the coronavirus pandemic to support our learning community and to ensure that our operations continued as smoothly as possible. We look forward to being back in Dineen Hall for the new academic year ahead, and I'm certain the positive lessons of the last year will make us stronger still. I hope as you read these pages, you are as proud and as inspired as I am by the remarkable accomplishments of our students, faculty, and staff.
Go Orange!
Craig M. Boise
Dean and Professor of Law