2021-2022
Dean Boise Joins Governing Advisory Council of ABA Legal Education Police Practices Consortium
In October 2020, Dean Boise joined a 10-member Advisory Council to govern the newly formed ABA Legal Education Police Practices Consortium. As a member of the Advisory Council, Dean Boise will help lead Consortium efforts to leverage expertise across the ABA and among collaborating law schools to develop projects that promote better police practices throughout the United States.
"As a former police officer and commissioner on the Cleveland, OH, Community Police Commission, I care deeply about building positive community/police relations," said Dean Boise. "Syracuse is fully committed to helping the Consortium use the combined power of the bar association and law schools to effect change to police practices. The Consortium also will provide our students with meaningful opportunities to contribute to the imperative work of police reform locally and nationally."
First-Time and Ultimate Bar Passage Rates Released
First-time and ultimate bar passage rates for Syracuse Law graduates were posted in March 2021. Of first-time bar exam takers in the New York jurisdiction, 81.31% passed (compared to the state average of 85.93%).
The Ultimate Bar Passage rate for students graduating in the 2018 calendar year was 94.08%.
College of Law Rises Nine Place in U.S. News Rankings
The College of Law rose nine places in the 2022 edition of the U.S. News & World Report law school rankings, released in April 2021. Among drivers of this improvement, the College's median LSAT rose one point to 155 and the Undergraduate GPA increased from 3.33 to 3.53. In fact, Syracuse Law was among just 25% of law schools that improved both LSAT and UGPA, tying for the largest increase in UGPA.
The College's selectivity improved by seven percentage points, the bar passage rate climbed from 85% to 88%, and the influential Judges/Lawyers Assessment Score went from 2.9 to 3.0. Notably, the Advocacy Program climbed from #15 to #11, marking a 16-place rise in the rankings in the last two years.
"The U.S. News rankings are just one way to measure our success," noted Dean Boise. "Despite their pervasiveness, we remain singularly focused on our mission, which is to graduate extraordinary law students who go on to lead extraordinary lives enriched by all they learn and experience at Syracuse Law."
Celebrating Classes of 2020 and 2021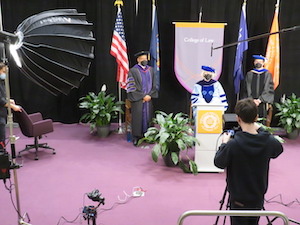 On May 7, 2021, Syracuse Law celebrated the graduation of both the classes of 2020 and 2021 with a virtual Commencement ceremony featuring an address by Joanna Geraghty L'97, President and COO of JetBlue.
"The rule of law can never have enough friends across the globe, where it can appear to be under siege at different times and in different circumstances," Geraghty told the graduates. "Syracuse taught you that, be a friend to the rule of law wherever and whenever you come across it—and you will."
Class of 2021 President Troy D. Parker and SBA LL.M. Senator Fildous Hamid offered their colleagues words of congratulations and encouragement. Alicia Loomis L'19, an associate at Costello, Cooney & Fearon PLLC, sang the National Anthem and Alma Mater. In addition to the virtual Commencement, on May 6 the College held a virtual awards ceremony honoring student, faculty, and staff excellence.
Disability Rights Luminaries Speak at DLPP/Syracuse Law Review ADA Symposium
The College hosted a star-studded Americans with Disabilities Act Symposium in April 2021, commemorating the ADA's 30th anniversary, as well as the Disability Law and Policy Program's 15th anniversary and a special ADA volume of the Syracuse Law Review.
Guest speakers included disability law luminaries Alison Barkoff, Acting Administrator and Assistant Secretary for Aging, US Department of Health and Human Services; international disability rights activist Judy Heumann; and Arlene Mayerson, Founding Directing Attorney Emerita, Disability Rights Education and Defense Fund.
Many of the papers discussed during the symposium will be published in a future edition of the Law Review, focusing on the past, present, and future of disability rights domestically and internationally.
CCJI Helps Launch Wharlest and Exerlena Jackson Legacy Project
To honor the sacrifice and memory of two civil rights activists from Natchez, MS, Professor Paula Johnson and students in the Cold Case Justice Initiative helped launch the Wharlest and Exerlena Jackson Legacy Project with a two-day virtual symposium for public junior and senior high school students in both Natchez and Syracuse on March 26-27, 2021.
In addition to honoring the Jacksons' service and sacrifice (both were active in the NAACP, and in 1967 Wharlest was killed in what the FBI considers a Ku Klux Klan attack), the Legacy Project aims to provide resources to enable students to achieve their life and career goals and to continue the Jacksons' dedication to civic engagement.
To assist the project, Syracuse Law students have volunteered as "Life Buddies"—or mentors—to help school students navigate the next steps in their lives. Junior high and high school students who register in the Life Buddies program will be assigned a law student who can answer questions about the path to college and other career decisions.
Syracuse Law Hosts Policing Reform Panel Discussion
Exploring policing reform efforts in Onondaga County and connecting those local and community efforts to the broader national conversation about policing practices, Syracuse Law hosted the "Policing and Reform in Onondaga County and Beyond" panel discussion in April 2021.
Sponsored by the Syracuse Civics Initiative and hosted by Dean Boise and Professor Lauryn Gouldin, the discussion featured Syracuse Police Chief Kent Buckner; Lisa Kurtz, Innovative Policing Program, Georgetown Law; Jimmy Oliver, Syracuse Police Director of Community Engagement; Sarah Reckess L'09, Director, Center for Court Innovation-Syracuse Office; and Onondaga County Legislator Vernon Williams Jr.
The panel addressed key provisions of the Police Reform and Reinvention Plans recently developed by Onondaga County and the City of Syracuse, including use-of-force policies, police-community relations, and alternatives to arrest.