By Andrew S. Horsfall L'10, Assistant Dean of International Programs
OFFICE OF INTERNATIONAL PROGRAMS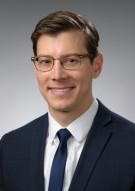 In early spring 2020, weekly enrollment reports showed that applications to the LL.M. program were soaring well above where they usually are. I was holding weekly admission interviews with applicants from nearly every corner of the globe and working with incoming students on their visa paperwork (a good sign that one has committed to Syracuse Law).
It felt as though we were on track to exceed our enrollment goals for the fall 2020 semester until talk of a pandemic began to be all too real. Looking back, it is easy to think that everything changed overnight—lockdowns, mask mandates, and canceled plans—but there was still hope through the late spring and early summer that we would be back to normal sometime during summer and that it would be business as usual by fall.
However, summer brought border closures, student visa restrictions, and near-hourly requests from students to "defer to a later semester."
"Throughout, there was a refrain of

gratitude for the opportunities to learn

and engage with the Syracuse Law community."
I couldn't blame anyone for wanting to delay their LL.M. experience. Many applicants would be accessing Zoom lectures from up to 12 hours ahead or behind Syracuse time. Although admissions numbers started to evaporate, I was struck by the optimism and determination of a small group of students who committed to starting their LL.M. studies with us in August.
In total, 10 students from eight countries enrolled. This class was extended across different locations and time zones: three students were located in Syracuse, another three were elsewhere in the Eastern Time Zone, and four studied from their homes in Mexico, Kenya, Germany, and Ghana.
By Labor Day 2020, with orientation behind us and the first weeks of classes over, I was afraid our small but mighty group would become even smaller with students deciding that this "wasn't for them." Despite the usual growing pains of a new semester, the requests to drop or defer didn't come in. Nor did they come in September, nor after mid-terms, and nor leading up to final exams. They had done it!
Every LL.M. student who started in the fall successfully completed the semester, and then went on to do the same in the spring. Indeed, our "small but mighty fall" cohort was joined by 13 new LL.M. students for spring 2021.
Our LL.M. students not only attended classes—sometimes well past midnight their time—but they participated in student organizations, made meaningful editorial contributions to student journals, and formed relationships with one another and their professors. Throughout, there was a refrain of gratitude for the opportunities to learn and engage with the Syracuse Law community. The LL.M. program is always a transformative experience for our students, and over the 2020-2021 academic year our students—our "COVID Class"—were asked to transform and adapt to many more challenges than they could have foreseen.
Not that we have surmounted the obstacles of that year, we can proudly look ahead to a return to in-person classes and the opportunity to welcome one of our largest incoming cohorts of LL.M. students—from more than 20 countries! Having thrived in their studies during a pandemic, the COVID Class has set a very high bar for our future students, and I look ahead with all the optimism and determination that our students demonstrated over the past year.
---
Assisting Uzbekistan with Disability Rights Building Capacity
In December 2020, Dean Boise joined Chancellor Kent Syverud, Provost John Liu, Syracuse Law colleagues, and representatives from three Republic of Uzbekistan institutions to sign an agreement that strengthens academic ties between the University and the republic. The agreement includes a collaboration to create a disability law clinic at Tashkent State University of Law, led by Professor Michael Schwartz, Director of Syracuse Law's Disability Rights Clinic.
"Syracuse Law enjoys institutional relationships with more than two dozen foreign law schools and government agencies," says Dean Boise.
"This agreement marks our first in Uzbekistan. It will be among our most robust partnerships, bringing together parties and interests across various strata of civil society, including academia, governmental, and nonprofit organization.
---
In Memoriam
The College of Law mourns the passing of Master of Laws student Zaiden Geraige Neto in March 2021. Zaiden was a prestigious and well-respected class action lawyer and law professor in Sao Paolo, Brazil, who held an LL.B., Masters, and Ph.D. from Pontifical Catholic University.
"I knew Zaiden as a perennially positive and optimistic person who was excited about his studies with us and always enjoyable to see," reflects Assistant Dean of International Programs Andrew S. Horsfall L'10.