1955–2023
Professor of Law, Associate Dean for Clinical and Experiential Education Syracuse University College of Law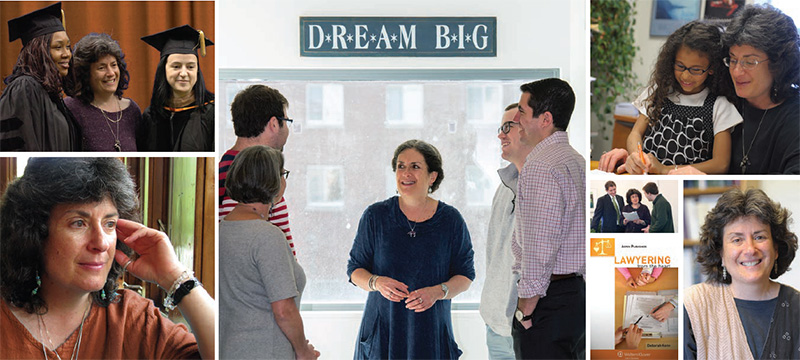 Our College of Law Community mourns the passing of Professor Deborah Kenn on April 20, 2023. Professor Kenn served as the Associate Dean for Clinical and Experiential Education and the Director of the Community Development Law Clinic for many years. She will be remembered as a passionate educator and mentor to hundreds of students and a relentless advocate for our community.

Deborah (Orah) Kenn, 67, of Nelson, NY died at home in the presence of family and friends on April 20, after a courageous seven-year journey with leukemia. Born in NYC and raised in Fort Lee NJ, she spent her adult life in Syracuse and Nelson. She obtained a B.A. from Eisenhower College, and a J.D. degree from SUNY Buffalo. Initially practicing environmental and animal rights law in NYC, she then worked in poverty law with Legal Services in Syracuse. Subsequently, Deborah was employed at Syracuse University starting in 1989, initially as a law professor to direct the Community Develop Law Clinic. She was then appointed as Director of Clinical Legal Education Office, and most recently served as Associate Dean of Clinical and Experiential Education at the Law School. She also led three student trips to South Africa to study the post-Apartheid legal system in that country. Throughout her legal and academic career, Deborah was a passionate advocate for social, environmental and economic justice, for animal rights, and for compassionate lawyering. She is the author of Lawyering from the Heart, and co-author of Community Economic Development Law. Deborah also served the Nelson community as a member of the Town of Nelson Town Board.
Her energy and dedication for living was shared with her family, a wide circle of friends, her animals, her students and her colleagues. Her interests included gardening, word puzzles, hiking, traveling, reading, cooking and dining out. She also found comfort, wisdom and strength from the natural world.