Strengthening ties with the Georgian Bar Association (GBA) Through a Visit to Tbilisi and Hosting Judges in Dineen Hall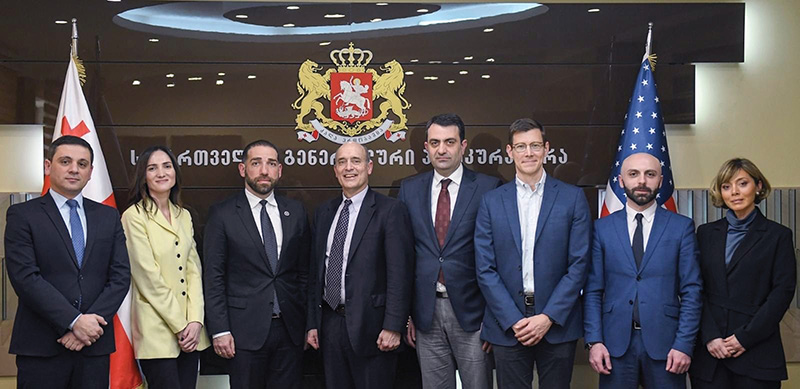 Assistant Dean of International Programs Andrew Horsfall L'10 and Institute of Security Policy and Law Director the Hon. James E. Baker traveled to Tbilisi, Georgia this spring upon invitation from the Georgian Bar Association (GBA) in spirit of partnership and future collaboration with the College of Law.
The institutional partnership between the College of Law and the GBA originated during the 2021-22 academic year, when GBA President David Asatiani and Dean Craig M. Boise signed a Memorandum of Understanding (MOU) to promote scholarly exchange and cooperation between Syracuse Law, Syracuse University, and the GBA. Asatiani visited the College of Law with GBA Director of International Affairs Giorgi Tshekhani and Head of Analytical and Committee Affairs Tamta Devdariani to deepen their linkages and understanding about rule of law and civil society functions in the United States. 
"The College of Law has, and continues to be, a rich academic destination for Georgia's students, scholars, and academics seeking to pursue further study in the areas where it is facing its greatest political challenges—security law and policy, the spread of disinformation, and cyber security"  

Andrew Horsfall L'10
Syracuse Law also offered a five-part lecture series to members of the GBA in the spring of 2022, discussing a range of topics that covered foundational aspects of the U.S. legal system, and nuances of criminal procedure, commercial law, national security law, and intellectual property. 
Continuing this collaboration, Horsfall and Baker visited Georgia this academic year with the objective to not only strengthen the relationship with the Georgian legal profession, but also to promote Syracuse Law and University as a destination for collaborations around security policy and law. Highlights of the visit included:
Meetings with the Chief Justice of the Supreme Court of Georgia, the Chief Prosecutor General of Georgia, and Georgia's Deputy Minister of Defense to discuss current rule of law challenges and mutual cooperation in the training of its lawyers. 
A lecture by Baker to members of the GBA on the challenges of serving as a national security lawyer. 
A meeting with the Ministry of Education's Center for International Education to discuss the launch of a tripartite scholarship program, in collaboration with the GBA, for Georgian lawyers, prosecutors, and judges. 
Round-table discussions with the Deans and representatives of eight of Georgia's law schools to expand the College's network of academic partners in Georgia, and with representatives from various civil society organizations promoting grass-roots level rule of law initiatives. 
Shortly after their return, the College of Law hosted 10 of Georgia's civil and administrative judges in April as part of a jointly sponsored exchange program with the ABA Rule of Law Initiative (ABA ROLI) and USAID. For over 30 years, the initiative cultivates mutual understanding and capacity building through in-country visits, guest lectures, and engagement with various aspects of the U.S. judicial system. 
Focusing on themes such as freedom of expression, jury selection, and court administration, the judges visited members of the judiciary from the United States' Northern District of New York and New York State's Fifth Judicial District to observe voire dire proceedings and share perspectives on jury selection. The College of Law also hosted a roundtable discussion with Vice Dean Keith Bybee and Professor Roy Gutterman L'00 to discuss freedom of expression and the media's coverage of high-profile cases. 
"This visit to Georgia and the College's hosting of its judges has strengthened another crucial segment in the 'Ring around Russia' and our project's present mission of cultivating a community of academics, military, government, and private-sector professionals committed to the rule of law. We were regularly reminded throughout our engagement with Georgia's judges and advocates that 20% of Georgia is occupied by Russia and that threats to Georgia's political and cultural sovereignty persist. Georgia's relationship with the United States and other Western allies remains a priority to support the democratic values anchoring its institutions, and partnerships such as this further these important interests." 

The Hon. James E. Baker