1L D'Andre Gordon Named One of Eight Federal Magistrate Judges Association Fellows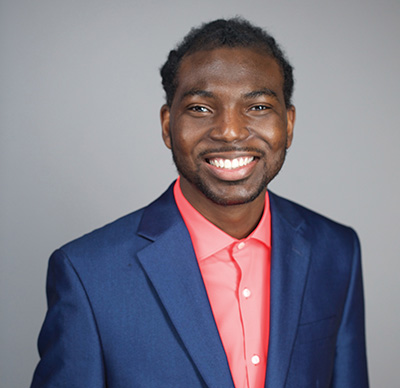 1L D'Andre Gordon is one of eight law students nationwide to be named a Federal Magistrate Judges Association (FMJA) Fellow for the 2023-2024 academic year. Gordon will be interning for the Hon. Thérèse Wiley Dancks L'91, U.S. Magistrate Judge for the Northern District of New York.
The FMJA, in collaboration with Just the Beginning, created the fellowships to support and promote the placement of diverse and underrepresented law students in judicial internships with U.S. Magistrate Judges. Each FMJA Fellow will also have the opportunity to participate in FMJA programs advising students about the application process for federal clerkships and the various career pathways to the bench.
Gordon says, "As someone who identifies strongly with Black people's struggle for liberation, the FMJA fellowship is necessary for increasing diversity in the judiciary. Because the intersection of race and class permeates every aspect of our lives, the federal judiciary must strive to reflect the demographic makeup of the U.S. population. Otherwise, there is a real risk that federal courts will cause more significant public harm, and public trust will erode. Working with a magistrate judge will allow me to better understand how federal judges decide cases of great importance while also learning about multiple areas of law. Using the skills I'll gain working in a judge's chambers, I hope to become a stronger and more effective advocate for individuals and groups lacking access to the legal system."
Christopher (Martz) Arima L'22 Named a 2023 Law360 Distinguished Legal Writing Award Winner by the Burton Awards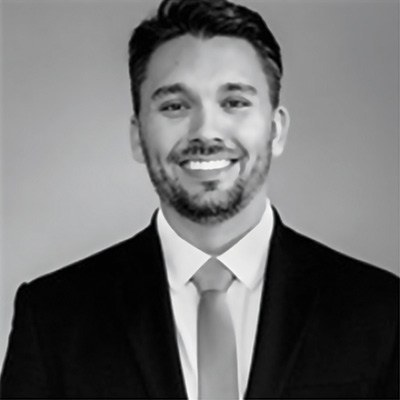 Christopher (Martz) Arima L'22 was named a 2023 Law360 Distinguished Legal Writing Award winner by the Burton Awards. Sponsored by Law360 and co-sponsored by the American Bar Association, the Burton Awards were established to honor the finest accomplishments in law, including writing, reform, public service and interest, regulatory innovation, and lifetime achievements in the profession.
His note "Domestic Violence in Iraq: Legal Barriers to Survivors in Pursuit of Justice" was published in the Journal of Global Rights and Organizations Annual Review–Volume 12. Aliza Milner, Director of Legal Communication and Research, reviewed notes from the College's academic journals to select one paper for submission.
Arima is currently a law clerk at Herbert Smith Freehills New York LLP, specializing in disputes, international arbitration, and international investment.
Kendall Anderson L'23 Featured in the ABA Journal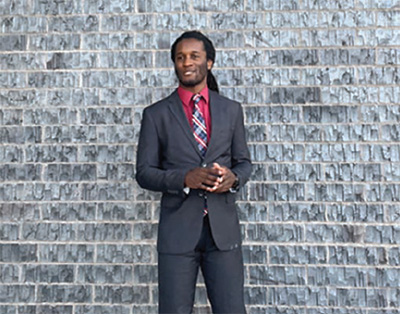 Kendall Anderson L'23 was featured in the article "ABA Partners with Law Schools to Advance New Approaches to Policing and Public Safety" in the spring ABA Journal.
Anderson is a fellow in the ABA's Legal Education Police Practices Consortium, a collaboration between law schools and the ABA that is examining and addressing legal issues in policing and public safety. As a part of his research, he plans to collect local data on police stops that involve physical contact or altercations. This could include roadside sobriety tests and pat downs, he says, as well as further escalations.
As part of their work in the Legal Education Police Practices Consortium, law schools offer semester-long fellowships to students such as Anderson who are interested in studying policing and other criminal justice issues. In January, Anderson joined 40 law students from 28 law schools in the spring fellowship class.
Maureen Blennerhassett L'23 and Matthew Mayers L'23 Named 2023 Feinman Fellows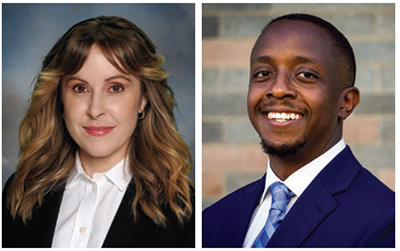 Maureen Blennerhassett L'23 and Matthew Mayers L'23 were named Feinman Fellows as Spring 2023 externs. Established by Martin Feinman L'86, the Feinman Fellows receive a financial gift to help defray expenses associated with taking on their spring externship in recognition of their commitment and dedication to public service. Feinman is the Director of Juvenile Justice Training at The Legal Aid Society of New York City. 
Blennerhassett's Spring 2023 externship was with the Federal Public Defender for the Western District of Texas, Capital Habeas Unit (CHU). CHU is a federal office tasked with representing indigent men and women on Texas' death row in late-stage appeals of their death sentences, filing federal habeas corpus petitions, and applications for clemency.
Mayers's Spring 2023 externship was with Legal Services of Central New York (LSCNY). LSCNY is a legal aid organization whose mission is to promote equity and justice through law and policy, and advocates for juveniles whose rights have been violated in the context of incarceration.
College of Law Tillman Scholars Run in Pat's Run 2023 Fundraiser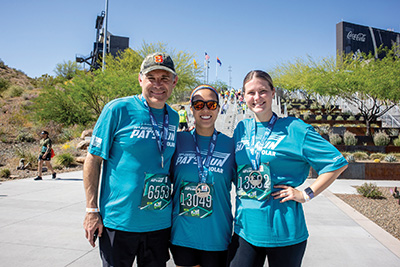 College of Law Tillman Scholars and JDinteractive students (pictured left to right) Bill Rielly (Army), Amanda Higginson (Navy), and Natasha DeLeon (Marine Corps) joined leadership from the Syracuse University Office of Veteran and Military Affairs for Pat's Run, the signature fundraiser for the Pat Tillman Foundation's Scholar program.
Their shared commitment to service beyond self has led them to the College of Law. According to Rielly, "Justice in our country requires both accountability and redemption. We need to stop defining people by their mistakes and start focusing on their potential."
Higginson is dedicated to promoting a positive growth experience in medicine and life by connecting people with support and resources. Meanwhile, DeLeon hopes to become part of the solution to the injustices she has seen in the legal system as a social worker.