In the Spring 2023 semester, the College of Law welcomed Professor of Practice and Faculty Director of Externships Kristin Walker L'09 to the faculty. Walker, who served as an adjunct for four years, returns to her alma mater in a full-time capacity to teach transactional drafting and advanced litigation among other courses and the externship seminar. 
Starting in the Fall 2023 semester, leading expert on civil procedure, civil rights litigation and disability law Katherine A. Macfarlane will join the faculty as Associate Professor of Law and Director of the College's Disability Law and Policy Program.
Meet the Professors
Kristin Walker L'09
Why did you go to law school?
As an undergraduate at Villanova University, I enrolled in a Business Law course taught by a practicing attorney. At the time, I was pursuing a career in journalism. However, due to market changes and this professor's energetic, practical teaching style, my pursuits shifted in the direction of law.
What inspired you to progress from an Adjunct Professor to a Professor of Practice and Faculty Director of Externships?
Teaching allows me to channel my practical knowledge into the classroom to bring legal theory to life. Having taught as an adjunct professor for four years while practicing full-time, I knew that teaching was my passion. As I was already teaching courses and externship seminars as an adjunct professor, it was a rather seamless transition into my full-time faculty role as Professor of Practice and Faculty Director of Externships. 
Did you ever envision yourself in front of the classroom while a student at the College of Law?
I have always had an inclination to teach, whether it was equestrian sports, fitness disciplines, or law. I believe my desire to teach my profession was inspired by my father, now a Professor Emeritus of his own profession. Despite my awareness of this inclination, however, I will always remember my first day of teaching a law school class.
What interests do you have outside of the classroom?
Outside the classroom, I am a certified fitness trainer in the disciplines of TRX and STOTT Pilates Reformer and am a student of classical piano. I am drawn to entrepreneurial pursuits, all things nature and animals, and entertaining family and friends. 
Katherine A. Macfarlane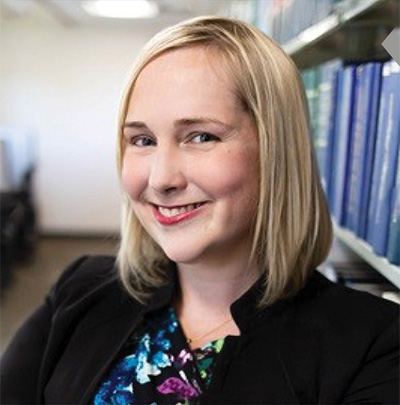 Why did you go to law school?
I always wanted to be a lawyer. As a young person, I was inspired by civil rights movements and wanted to fight for civil rights.
What is the most important aspect of the law that students should know?
You can both love the law and recognize (and try to change) the injustice in our legal systems.
What interests do you have outside of the classroom?
I love swimming, catching a matinee, and spending time with my dog Cooper. I lived in Italy as a kid and am very happy whenever a margherita pizza makes an appearance in my life.
What are you most looking forward to this fall as you join the College of Law?
I am thrilled to be joining a law school that is committed to supporting people with disabilities. And I can't wait to meet our students!