Associate Professor Jennifer Breen Recognized by Syracuse University with a Laura J. and L. Douglas Meredith Teaching Recognition Award
Associate Professor Jennifer Breen received a 2022-23 Laura J. and L. Douglas Meredith Teaching Recognition Award for Early Performance in recognition of her excellence in teaching. The awards were created in 1995 to recognize and reward outstanding teaching among faculty in two categories: Early Performance and Continuing Excellence. Breen was selected for this award upon the recommendation of a committee of Meredith Professors, Teaching Recognition Awardees, and student representatives.
Breen teaches Constitutional law, administrative law, and labor law. Her interdisciplinary scholarship is centrally concerned with democratic governance in the United States and pays particular attention to the roles of gender and labor politics.
She has recently completed or is working on several new articles including "Democratic Erosion and the United States Supreme Court" (forthcoming Utah Law Review, spring 2024), "Democracy, Republicanism, and the Roberts Court" (work in progress), and "Labor Unions and Public Health Outreach" (with Gretchen Purser, Syracuse University Associate Professor of Sociology). 
Professor Arlene Kanter Receives a Chai Feldblum Award from the AALS Section on Law Professors with Disabilities and Allies'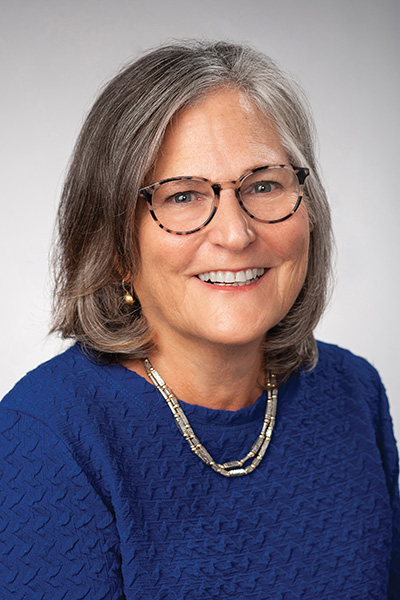 Professor Arlene Kanter, Director of the Disability Law and Policy Program, received a Chai Feldblum Award from the AALS Section on Law Professors with Disabilities and Allies at the American Association of Law Schools (AALS) 2023 Annual Meeting. 
The award is named after Chai Feldblum J.D., an EEO and DEI consultant, Partner and Director of Workplace Culture Consulting at Morgan Lewis, and former Commissioner of the U.S. Equal Employment Opportunity Commission. This is the third year the award has been given.
Kanter's nomination letters note that she is "an influential scholar, innovator, and leader," and that students and colleagues often conveyed their personal thanks for her advocacy on their behalf. 
Professors Emily Brown L'09 and Laura Lape Honored at the Center for Disability Resource's Faculty and Staff Recognition Ceremony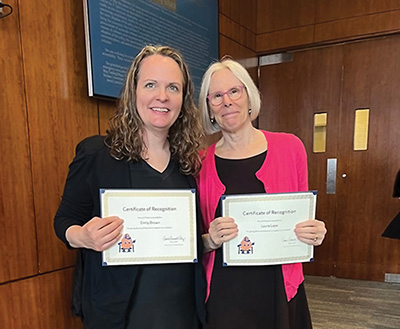 Professors Emily Brown L'09 (pictured left) and Laura Lape both received honors at the 9th Annual Faculty and Staff Recognition Ceremony. Hosted by the Center for Disability Resources, the awards are presented to individuals who have exceeded expectations and embrace a culture of empowering students, inclusion, and celebrating disability as diversity. 
Brown, nominated by 2L Elle Borgdorff, and Lape, nominated by Jessica Senzer L'23, said they found it moving to attend the ceremony and see how much inclusive practices mean to students across campus.
Professor Mary Helen McNeal Retires after Over 30 Years of Teaching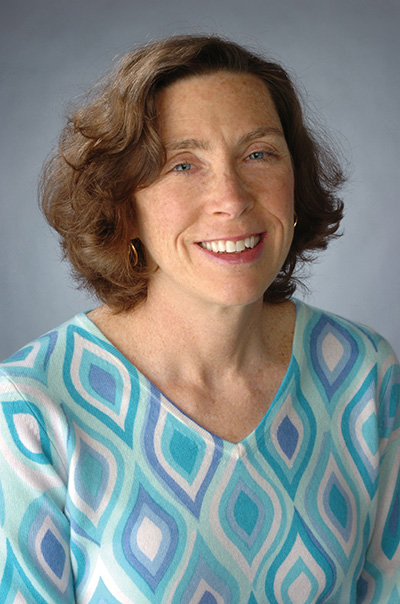 Professor Mary Helen McNeal taught her last class for the College of Law on Thursday, April 20, capping more than 30 years as a professor with the last 18 years at Syracuse Law. She founded the Elder and (later the Elder and Health Law Clinic) Law Clinic in 2008 and served as the Director of the Office of Clinical Legal Education from 2005 until 2011. Most recently, she served as the LondonEx Program Director and taught professional responsibility.
Her research and writing focus on elder law, with a particular emphasis on Medicare, clients with diminished capacity, restorative justice and elder abuse; culture and lawyering; and clinical teaching.
McNeal participates in the Syracuse area Elder Justice Task Force and the CNY Restorative Practices Working Group and was Chair of the Aging and the Law Section of the Association of American Law Schools (AALS) in 2021. She previously served on the AALS Clinical Section's Task Force on the Status of Clinicians in the Academy, on the AALS Equal Justice Task Force, and as Chair of the Clinical Section. She also has worked extensively on equal justice issues and served as Chair of the Montana Supreme Court's Equal Justice Task Force and as a member of the Montana State Bar's Access to Justice Committee. McNeal also has participated as an ABA site inspection team member.
The College of Law offers a sincere thank you to Professor McNeal for her service over the years and the spectacular impact she has made on countless students for their professional lives and individuals who may otherwise not be able to obtain critical legal services.
Her well-earned retirement will enable her to pursue her many other interests, including traveling, hiking, and spending time with her family and her beloved dog Rosie.
Professor Kathleen (KC) O'Connor Retires After Over 20 Years at the College of Law 
Professor Kathleen (KC) O'Connor retired from the College of Law after more than 20 years of teaching and mentoring Syracuse Law students.
O'Connor joined the College of Law faculty as a Legal Writing Professor in 2002. She came to the College with solid practical experience in private practice and at the U.S. Attorney's office. In 2008, she was recognized by the University with the Meredith Teaching Recognition Award for excellence in classroom teaching.
In addition to her classroom assignments, O'Connor played many leadership roles at the College of Law. She served as interim director of the Legal Communications and Research program and, from 2015 to 2018, as the faculty director of the Moot Court Honor Society. In that role, O'Connor was instrumental in reshaping the advocacy program into the Travis H.D. Lewin Advocacy Honor Society.
Her most lasting accomplishment at the College was in launching and piloting JDinteractive, first as Executive Director of Online Education alongside Professor Nina Kohn and then as Associate Dean of Online Education. With her guidance, the College of Law successfully established the program as the leading online JD program in the United States.