A Class of 2023 law student draws on her undergraduate STEM degree to help entrepreneurs bring ideas to market as a legal professional.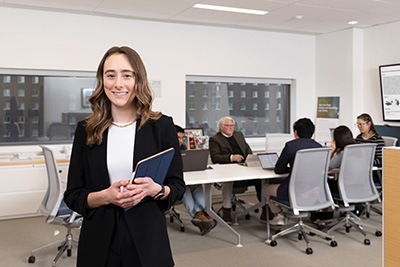 Some people spend years deciding what to do with their lives. Cecily Capo L'23, knew in an instant.
It was the spring of 2021, and, like most college students at the time, Capo was trying to make the most of remote learning. Truth be told, she felt listless, disconnected from her law studies.
Salvation came in the form of a virtual open house for Syracuse's Innovation Law Center (ILC), an experiential learning program for students interested in technology commercialization. One of the presenters was a silver-tongued attorney named Jack Rudnick L'73, the face of the 30-year-old center for more than a decade.
"Professor Rudnick talked about the kind of work that the ILC does—intellectual property as well as market and regulatory research for clients—and how it could propel my career in a new direction," recalls the Cazenovia resident, who earned a bachelor's degree in environmental science from the SUNY College of Environmental Science and Forestry (SUNY-ESF). "But what really surprised me was how many ILC students had science backgrounds. That flipped a switch in me."
A respected startup consultant, Rudnick convinced Capo of her own potential. He told her that in addition to interfacing with new and emerging technologies, she could draw on her scientific knowledge to help ILC clients—from federal laboratories and other universities to tech startups and blue-chip companies.
Moreover, her undergraduate focus on health and the environment could pay off for her down the road, given that the legal profession and science and technology overlap more and more.
"I knew that the ILC was where I needed to be. I couldn't wait to get started."

Cecily Capo L'23
Today's Trend, Tomorrow's Disruptor
In her third year, Capo was a senior research associate at the ILC, where she helped innovators and entrepreneurs bring ideas to market. Most of her work focused on the legal, business, and technical aspects of product development, all of which comprise the growing field of technology commercialization law.
Supervised by one or more faculty experts, Capo handled about a dozen ILC clients a year. Many of them were early-stage tech companies looking to capitalize on the post-pandemic job boom.
As the legal profession becomes more data- and tech-driven, students like Capo can benefit ILC clients and peers alike. "Cecily's background and time in the ILC gives her a unique understanding of our clients' technologies and their desire to monetize a particular technology," says Brian J. Gerling L'99, who recently succeeded Rudnick as the ILC's executive director. "Cecily also has learned valuable practical skills that she can carry forward in her practice."
Capo believes that the pandemic has changed how people think about work and technology. "Even if a client isn't at the forefront of their respective field, tech can play an important role in growing their company," she says, adding that today's small business trend can quickly become tomorrow's disruptor.
She has lent her expertise to all kinds of projects, from a nonsurgical solution for sleep apnea patients to an eco-friendly water filtration system to an image-transfer device for smartphones and TVs.
Most of Capo's jobs spanned several months and culminated with a detailed landscape report in which she and her peers made recommendations to the client about the technology in question. Incredibly, they could do this for little or no cost, due in part to the ILC's designation—and funding—as the New York State Science and Technology Law Center.
"We help clients figure out the next steps," says Rudnick, the ILC's senior advisor and professor of practice. "If their technology makes sense, we advise them to contact a patent attorney. If it doesn't, we encourage them to go back to the drawing board."
A Seamless Transition
To keep pace with demand, ILC enrollment has more than doubled in the past year under Gerling's vision and management. Capo was a part of a 24-person cohort made up mostly of law students, along with a few graduate students from the Martin J. Whitman School of Management and the College of Engineering and Computer Science.
"Our clients need people who can break down complex systems, recognize cause and effect relationships, and draw conclusions from research," Capo says. "Oftentimes we tell them what they don't want to hear."
Lawyers at Bond, Schoeneck & King agree, as they have a job waiting for her after graduation. As a member of the firm's intellectual property (IP) team, Capo will draw on her ILC experience to advise university spinouts, entrepreneurial start-ups, and blue-chip tech companies.
"Bond has an amazing track record of helping clients with patents and trademark registrations," says Capo of the Syracuse-based law firm, which has offices up and down the East Coast. "My team also works high-profile cases involving patent and trademark infringement, unfair competition, and trade secrets."
Capo will be in good company. Many of her future coworkers—patent attorneys and IP lawyers, mostly—have bachelors or advanced degrees in biology, chemistry, physics, and engineering.
"I anticipate a seamless transition," says Capo, who currently spends one day a week at Bond in preparation for her new job. "Syracuse has prepared me well."
Compassionate Professionalism
It was quite a leap from SUNY-ESF, where an elective in environmental law and policy forced Capo to rethink her career plans.
"Science can be black and white and have only one right answer. But with law, you can argue both sides. Sometimes the answer lies in how you present your case," she continues.
It wasn't until after SUNY-ESF, however, that Capo considered going to law school. A postgraduate internship with William Sawyer, a local forensic toxicologist who serves as an expert witness in the Monsanto Roundup lawsuits, helped her connect the dots between law and STEM (science, technology, engineering, and math).
Poring over Sawyer's depositions, Capo was struck by their similarities with STEM research papers. She noticed that both followed the logic and structure of rules-driven writing.
"By then, the qualities of scientific writing had been drilled into me—clarity, cohesion, precision," Capo continues. "Whether you're a biologist or a lawyer, the rules of good writing apply."
Case in point: Laura Lape and Rakesh Anand, who respectively teach IP law and constitutional law, are among Capo's favorite professors. "They've taught me to think, read and write like an attorney—something I couldn't have done without my STEM training," admits Capo, who was the editor-in-chief of the Syracuse Journal of Science and Technology Law and secretary of the Intellectual Property Law Society.
Rudnick points to Capo's involvement with the University's Transactional Law Clinic, which provides legal services to small businesses, entrepreneurs, and startups, as proof of her compassionate professionalism, that she leads from her head and her heart.
"I've always been into giving back," says Capo, who co-founded SUNY-ESF's first food pantry and has volunteered for the Samaritan Center. "At Syracuse, I'm doing it on a bigger scale and, in the process, hopefully making a difference."