College of Law Holds Commencement for Class of 2023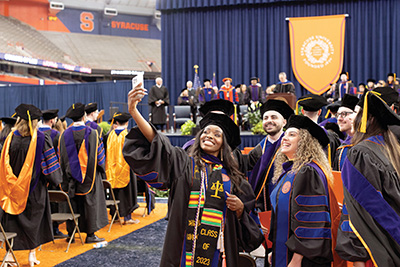 On Friday, May 5, the College of Law held Commencement for its 182 J.D. and 22 LL.M. Class of 2023 graduates.
Senior Vice President, General Counsel and Corporate Secretary at Micron Technology Rob Beard delivered the 2023 commencement address. Class President Ryan Ockenden offered remarks to the Class of 2023, followed by Ludmilla Evelin de Faria Sant'Ana Cardoso as the LL.M. SBA representative.
Professor Todd Berger received this year's Res Ipsa Loquitur Award, given to a faculty member for "service, scholarship, and stewardship" to the students. Professor Antonio Gidi was voted by the LL.M. class of 2023 as the recipient of the Lucet Lex Mundum Award for his significant impact on the successes and experiences of the LL.M. students during their studies.
Beard offered words of advice and wisdom to graduates, inspiring them to make their own luck and be the best and most genuine version of themselves. He emphasized the importance of teamwork and relationships as a key component of a successful career, explaining, "Relationships have been central to each major step in my career. They were the introductions to new opportunities that broadened and shaped my path. And many times, these people were great coaches — they emphasized and highlighted qualities I had and encouraged me to have the confidence to step into the next role. Relationships are central to everything in life."
College of Law Advocacy Program's National Trial League Recognized by Bloomberg Law's Law School Innovation Program
The College of Law proudly celebrates its Advocacy Program's National Trial League (NTL) as among the top-scoring entries in the Student Development category of Bloomberg Law's Law School Innovation Program.
The College of Law created and launched the NTL in 2021 as a new trial competition that brings together 12 top national law school trial teams to compete in a season-long format resembling a traditional sports league. The bi-weekly matches are conducted virtually using short fact patterns.
The NTL is composed of two conferences of six teams. The teams compete in bi-weekly matches through seven rounds in their conference and in one cross-conference match. The top two teams from each conference advance to the playoffs. This year, the championship match was held in person at Syracuse University College of Law.
"The College of Law is honored to be recognized by Bloomberg Law in the Student Development category for our nationally ranked Advocacy Program's National Trial League," says Dean Craig M. Boise. "At its heart, the NTL is a dynamic experiential opportunity for aspiring trial lawyers across the country to hone their advocacy skills in the courtroom, under conditions that simulate the pressure of appearing before a bench of judges."
Explains NTL organizer Professor Todd Berger, Director of Advocacy Programs, "Before the NTL, inter-collegiate trial competitions occurred over the course of a few days and featured long, complex fact patterns. Most real-world trials involve much shorter fact patterns and are conducted over a few hours, particularly bench trials."
The College of Law's Innovation Law Center also received recognition from Bloomberg Law as a high-scoring program in the Innovation and Experience category (see article on page 14.)
Bloomberg Law's Law School Innovation Program identifies, recognizes, and connects law school faculty, staff, and administrators who are pioneering educational innovations that benefit their students, their schools, and the legal field. Through the Law School Innovation Program, Bloomberg Law seeks to acknowledge these innovators while raising overall awareness of innovation in legal education.
Orange Advance Summer Residency Program
The College of Law welcomed a cohort of undergraduate students from the Atlanta University Consortium Center (AUC) for the Orange Advance Summer Residency program in May. These students interested in pursuing a law degree spent the week learning about the legal profession and how to prepare for law school with a full slate of academic, social, and cultural events.