The Attorney Who Represented the Ukrainian Whistleblower Describes His Path from Syracuse to the Impeachment of a President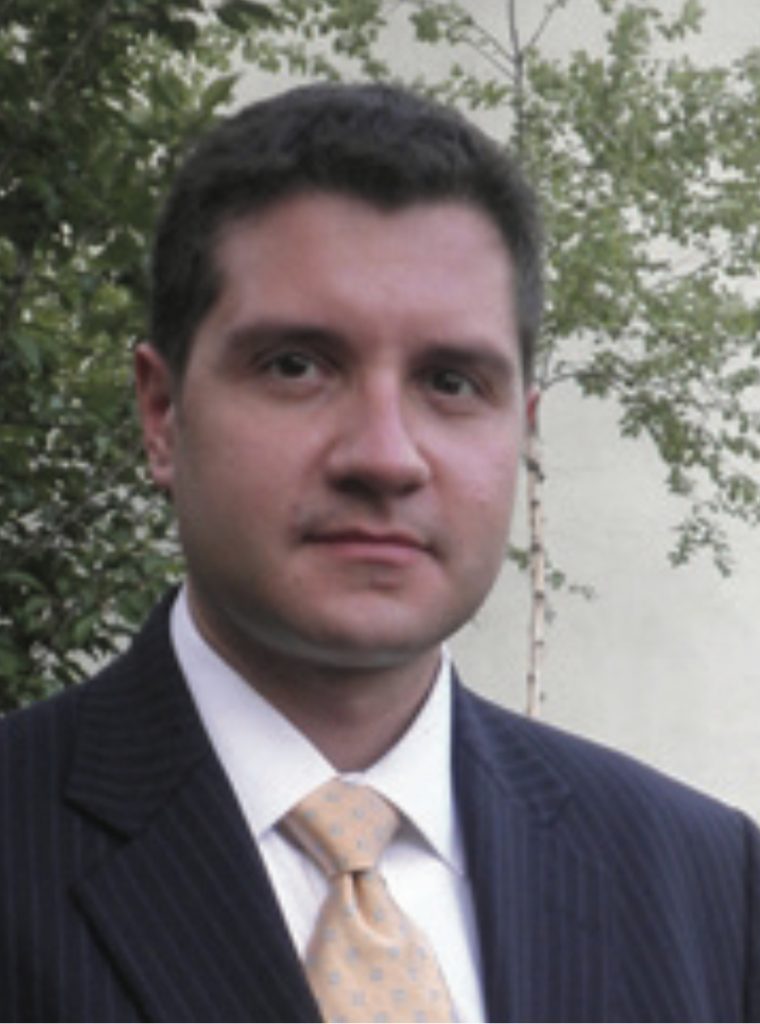 In August 2019 a government whistleblower made a formal complaint alleging that President Donald J. Trump had asked Ukrainian President Volodymyr Zelensky to investigate former Vice President Joseph R. Biden L'68, Trump's political opponent in the 2020 presidential election. That official complaint set off a series of events that led to Trump's impeachment in the House of Representatives in January 2020 and to his Senate trial and eventual acquittal a month later.
Many Americans followed only the third impeachment trial of a president intently, but perhaps none more so than Andrew Bakaj L'06, the Ukrainian whistleblower's lead counsel. Bakaj was a student of Professor Emeritus William C. Banks in the early days of the Institute for National Security and Counterterrorism (INSCT), now the Institute for Security Policy and Law. That's where he learned the laws that would inform his subsequent work on whistleblower law and policy in the Intelligence Community.
As an intelligence officer and criminal investigator, Bakaj also represented state department officials impacted by "Havana Syndrome." Today, as Founding and Managing Partner of Compass Rose Legal Group PLLC, he is a leading expert in security clearance matters and has advised and counseled numerous senior US government officials in a variety of legal and investigative areas. In this interview, Banks and Bakaj catch up to discuss Bakaj's fascinating career, including his public service, the importance of strong whistleblower laws, what happened when Bakaj was himself the subject of retaliation, the founding of Compass Rose, and the impeachment of a president.
---
Professor Emeritus William C. Banks: Tell us what brought you to Syracuse and how your legal education prepared you for your career.
Andrew Bakaj L'06: When researching law schools, what genuinely stood out about Syracuse was INSCT. The more I researched the program and looked at the school as a whole, the more I felt that Syracuse was the perfect fit for me. I knew that Syracuse was going to prepare me to be a lawyer, and I knew that the Institute's professors would have an impact on me for years to come. However, what has surprised me is how my education had such a direct, positive impact on my career.
Obviously, law schools typically don't have courses on "whistleblower law," but the legal concepts we study prepare us to work as advocates and advisors. The Institute offered an opportunity to delve deeper into real-world issues impacting our nation's security.
WCB: What national security path did you take after graduation?
AB: My education and training resulted in me being hired as an investigator with the US Department of Defense (DOD) Office of the Inspector General (OIG).
My OIG leadership was looking to create a program to protect DOD civilian whistleblowers, particularly those within the defense intelligence community. After conducting a number of investigations, I was tasked with developing the legal and investigative framework to protect whistleblowers within and outside that community who hold security clearances.
Additionally, I worked closely with the National Security Agency (NSA), overseeing its internal whistleblower protection program. Our program became the model for President Barack Obama to expand whistleblower protections to members of the larger Intelligence Community and those who hold security clearances.
---
WCB: Tell me more about your time at the CIA Office of Inspector General and the path toward founding your own firm …
AB: When I joined CIA OIG in 2012, I was directed by Inspector General David Buckley to lean forward and develop a program to comply with the presidential directive. What's more, not only did he want me to lead at CIA, he wanted me to lead and coordinate within the greater Intelligence Community. This led me to work with the recently established Office of the Intelligence Community Inspector General (OIC IG).
While successfully creating the program at CIA, my colleagues disclosed to me that senior CIA OIG officers were manipulating evidence in order to obtain a false prosecution, which resulted in someone pleading guilty.
After attempting to resolve the issue at the lowest level, CIA OIG leadership was not taking any action, and it was, in fact, targeting colleagues for raising concerns. Unable to merely sit on evidence that CIA leadership was violating the law, I coordinated with the OIC IG to have independent eyes look at the matter.
The matter was immediately referred to the FBI for investigation, and the case where the individual pleaded guilty was reversed. Moreover, the CIA IG and Deputy IG began targeting me and my colleagues. In 2014, David Buckley suspended my security clearance and placed me under investigation because of my communication with the OIC IG, which is protected whistleblower activity.
Over a year later, I resigned from CIA and filed a whistleblower reprisal complaint against the CIA OIG, using the rules and regulations I developed.
Shortly thereafter I began working as Special Of Counsel for Mark Zaid— who happens to be my attorney—and I eventually went on to found Compass Rose Legal Group.
---
WCB: How did you become involved as counsel for the Ukrainian whistleblower in 2019?
AB: Quite simply, the client was a referral from a trusted friend.
---
WCB: Were you surprised that the whistleblower's claims would lead to impeachment?
AB: Candidly, I was surprised that the claims resulted in impeachment. When I first learned about the underlying issues back in early August 2019, I suspected that the matter would have legs because it involved the President. I certainly expected a congressional investigation. Impeachment isn't something I considered would happen.
---
WCB: Based on your experience with the Ukraine case and others in recent years, what changes, if any, would you like to see in laws protecting whistleblowers?
AB: First, I would like to see it codified that the identity of whistleblowers are protected from public disclosure, and that this extends to members of Congress and other US government officials, including the President.
Second, given the complexity of the issues involved, I think it would be wise to create an Intelligence Community administrative court to ensure consistency in the agency application of laws and regulations protecting whistleblowers.
---
WCB: What advice do you have for law students aspiring to a career in national security law?
AB: While it's important to have overarching career goals, it's important to be flexible and to keep options open. As you can see from my own story, there is no way I could have predicted the twists and turns my life took. Opportunities come around when you least expect them, and there are times when something relatively minor can have significant meaning down the road.