Do You Remember? Help Us Caption Our Mystery Photos!
The College of Law's photo archive is a fascinating visual history of your alma mater, full of nostalgia, anecdotes—and a few mysteries. That is, some of our prints and slides lack information or captions.
That's where you come in. In this feature, we challenge you to help us recall the people and scenes in our mystery photos.
This time we return to what looks like one of the White/ MacNaughton lecture halls, with students seemingly getting to grips with a particularly tough problem.
However, there is nothing written on the reverse side of this print—if you know any of the students pictured, what class this is, and what year the photo was taken, please email Director of Alumni Relations Kristen Duggleby at klduggle@law.syr.edu, and we'll publish what we discover in a future issue.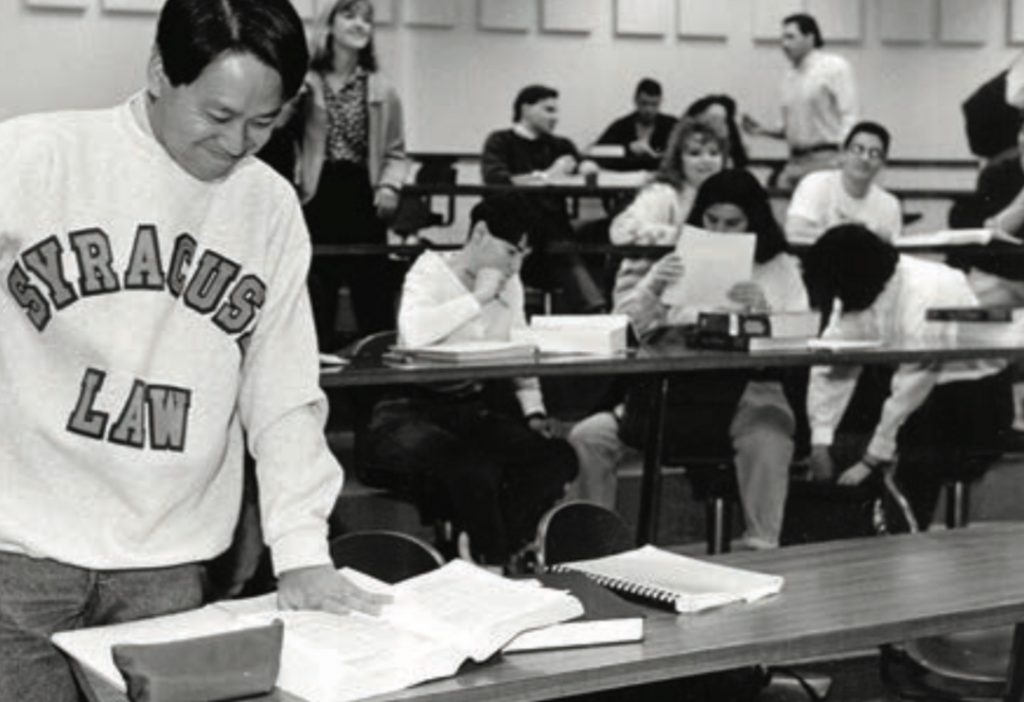 ---
A Transforming Experience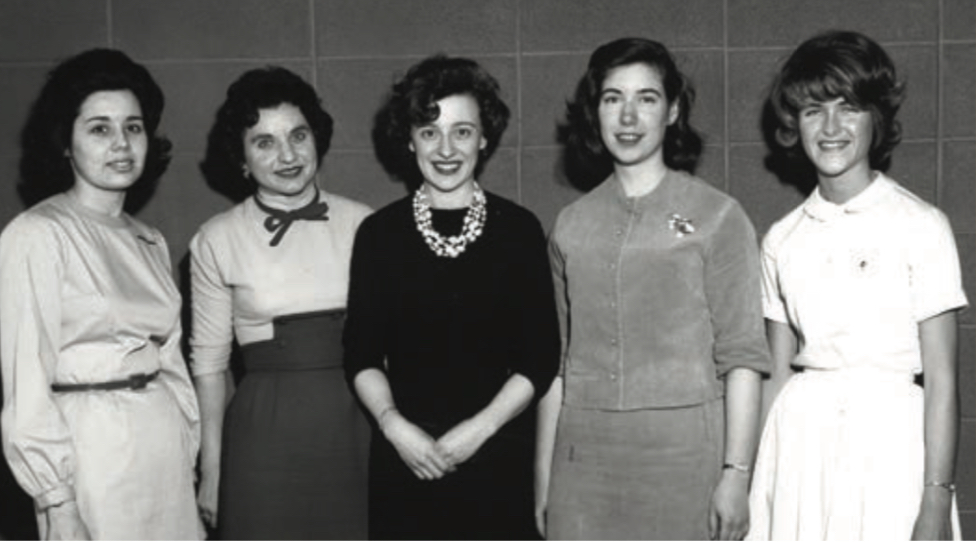 Thank you to Sharon O'Brien Allen L'73 for setting the record straight regarding the photo of five female students on the front cover of the 2020 Stories Book:
I am the student on the far right, not P.M. Orlikoff (Phyllis Orlikoff was a fellow student who graduated in 1963 and is now a prominent judge). My name then was Sharon O'Brien. I was originally a member of the class of '65, but I took a leave of absence after that first year to marry a West Point graduate and become the mother of two daughters.
When our family returned to live in Syracuse, I finished my law studies, graduating in 1973. I have been a member of the New York bar ever since, and my name at that point was, and still is, Sharon O'Brien Allen. My father, William G. O'Brien, was also a graduate of the College of Law, earning his degree in the late 1930s. And my daughters are both lawyers now, too!
There were only seven women students in the law school back in 1963, and we five were photographed in connection with admittance to an honorary society. Louise Dembeck, standing next to me in the photo, was the only woman to graduate in 1965. She and I remain close friends to this day.
When I graduated in 1973, I first worked for the law firm of Bucci & Lockwood, formed by two of the women in the photo. I believe theirs was the first all-women law firm in the state. Soon, though, I accepted a position as law clerk to the Onondaga County Court judges, which was by far my most enjoyable career move.
I earned an M.L.S. from Syracuse in 1991 and worked as a librarian in law schools before retiring as librarian of the public law library in Leesburg, VA. Being a student at the College of Law was a transforming experience and was equally gratifying at two very different times in my life!