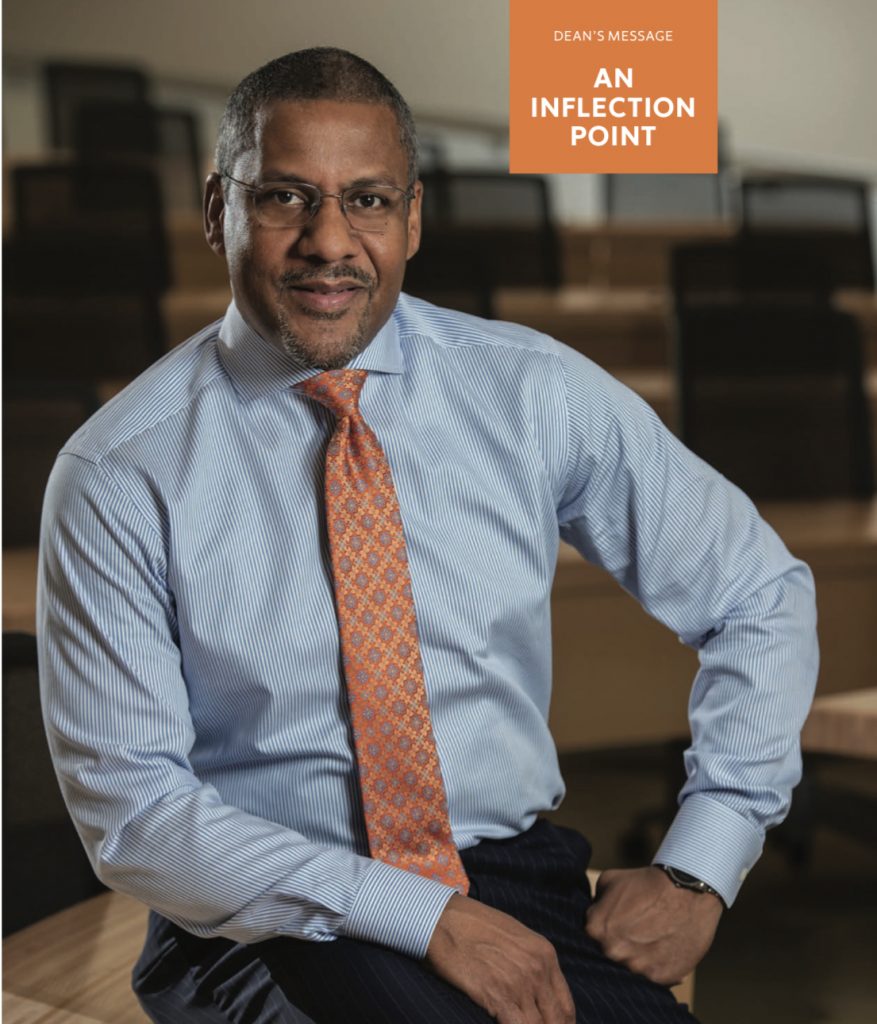 T he 2019-2020 academic year was destined to be momentous: January 1 began our 125th anniversary year. Throughout this issue of the Yearbook, you'll find visual and descriptive milestones of our proud history—achieved in no small part by you, our alumni.
But 2020 also will be remembered as a year marked by tumultuous events. It has been said, with little irony, that this year has combined the worldwide pandemic of 1918, the Great Crash of 1929, and the civil unrest of 1968. As I write, I see our nation at an inflection point, marked by an ongoing public health crisis and the economic devastation it has caused, as well as continued senseless violence directed at Black people and other people of color, to which citizens around the globe are reacting with anger.
The end of our academic year unfolded against this backdrop. In March 2020, in response to the COVID-19 pandemic, Dineen Hall was shuttered to all but a handful of staff, and our residential students pivoted to online learning. Reflecting on this transition, I appreciate how much easier it was because of the strategic investment we have made in online learning over the past four years. In fact, as our faculty helped to advise and train faculty from other law schools, our reputation as a successful pioneer in online education further solidified.
The silver lining of the disruption caused by COVID-19 was the opportunity to observe how the entire College of Law community pulled together with characteristic resilience, adaptivity, and creativity. Examples of how faculty, students, and alumni rose to the moment can be found throughout this magazine and especially in our COVID-19 round-up on p10.
As has been typical over its long history, the College's mainstay— our Law Library—was exemplary in the way it adapted to the sudden online learning environment. Expanding on our faculty's efforts with robust online resources and assistance is just the latest example of the library's decades-long commitment to service, a history we review on p14. Read it with pride, remembering your own relationship to the library, and enjoy a personal reflection by Director Jan Fleckenstein L'11 on p16.
Despite being physically apart, our community came together in force to celebrate online the myriad accomplishments of our advocacy (p24), externship (p42), and clinical (p52) programs in 2019-2020.
Out faculty's scholarship—visible and groundbreaking—was influential throughout the year and continued remotely in spring: An extensive list of new books, articles, and media appearances begins on p54.
This year also marks the 30th anniversary of historic civil rights legislation for the Disabled community—the Americans with Disabilities Act. Our College is a world leader in disability law and policy, and in this Yearbook we describe how the Burton Blatt Institute (p19) and Disability Law and Policy Program (p21)—which celebrates its 15th anniversary this year—have been central to national and international efforts toward the inclusion of people with disabilities.
This magazine observation of the ADA@30 begins with our cover story, in which Professor Robin Paul Malloy investigates the evolving and complex intersection of disability law and land use planning and zoning (p4). I hope that Professor Malloy's scholarship is of practical interest to you.
The success of the ADA at home and as a model abroad illustrates how the law can change lives and society for the better. Mass protests in the wake of the George Floyd killing in May, calls for police reform, and recognition of the suffering of our African American population have led to sweeping police reforms signed into New York State law by Gov. Andrew Cuomo in early June. These reforms are also examples of law's immense power, power that we teach our students to wield with precise care and a sense of justice for all citizens.
As a former Kansas City, MO, police officer and a former commissioner on the Cleveland, OH, Community Police Commission—and as a lawyer and a father—I care deeply about building positive community/police relations. As our nation reflects on this historic time, I pledge to continue to educate a diverse and inclusive body of students to be caring and professional advocates and to do our part to ensure the long overdue achievement of equal justice under the law, once and for all. Your support in this important endeavor is critical—always—and deeply appreciated.

Craig M. Boise
Dean and Professor of Law