"Our new identity recognizes the essential interdisciplinary nature of contemporary security challenges," said the Hon. James E. Baker in November 2019, announcing a new identity for the College of Law's national security institute, which he directs. "As the Syracuse University Institute for Security Policy and Law (SPL), we continue our mission to conduct leading-edge policy and law research and analysis across disciplines and to educate and inspire the next generation of security thought leaders and practitioners."
Founded as the Institute for National Security and Counterterrorism in 2003 by Professor Emeritus William C. Banks, the Institute has become a national leader in the teaching and analysis of a spectrum of security topics, including homeland security, the law of armed conflict, violent extremism, postconflict reconstruction, disaster response, the rule of law, veterans' affairs, diversity in the intelligence community, cybersecurity, critical infrastructure, and emerging technologies.
The Institute's new identity reflects the breadth of its activities, and it acknowledges the Institute's longstanding flexibility in addressing novel security challenges—both within the United States and around the world—through multidisciplinary research, teaching, public service, and policy analysis.
"A prime mover in national security policy and law, the Institute for Security Policy and Law is poised for the future," says Dean Boise. "I am particularly excited about SPL's expansion into emerging technologies, the private practice of security, and diversity in the intelligence community. These changes are transforming the workplaces our students are entering. By staying abreast of these trends, the Institute will remain a premier training ground for future practitioners."
SPL continues to offer three groundbreaking, interdisciplinary certificates of advanced study: Security Studies, National Security and Counterterrorism Law, and Postconflict Reconstruction. More than 700 students have earned SPL certificates since 2003. Alumni work across national and international security sectors, including for US and foreign governments, international humanitarian organizations, intelligence agencies, think tanks, NGOs, and they serve in all five branches of the US military.
ENGAGING SECURITY: SPL'S YEAR IN REVIEW
SUMMER 2019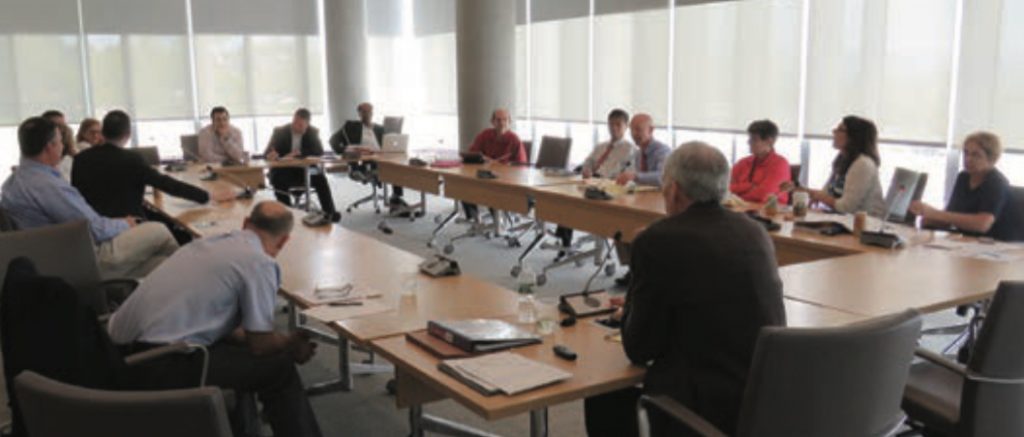 SPL Deputy Director Robert B. Murrett presides over a kickoff meeting for the Syracuse University Intelligence Community Center for Academic Excellence (ICCAE). SPL led an effort that resulted in the University being designated an ICCAE, a highly competitive, congressionally mandated program that is funded by the US Office of the Director of National Intelligence and that partners with universities to diversify the US intelligence workforce.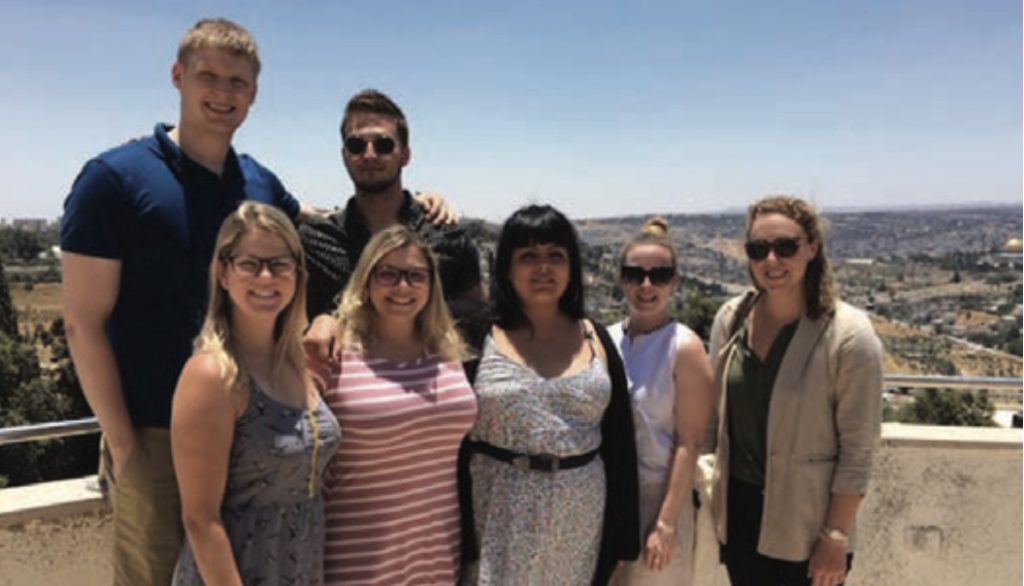 SPL students pose on a tour of historical sites during their graduate study abroad program in Israel and Palestine. Through SPL's long- running Program on Security in the Middle East, graduate and law students experience firsthand the dynamic and enduring security challenges facing the region. Study abroad fellowships are funded by Gerald B. Cramer '52, H'10 and Carol Becker '76.
FALL 2019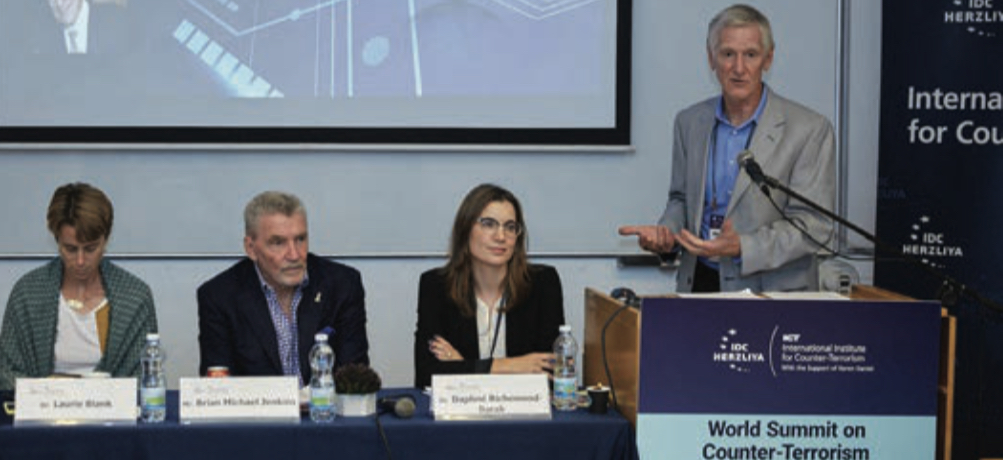 In September 2019, Professor Emeritus William C. Banks spoke on the Institute for Counter-Terrorism World Summit panel "When Conflicts End and How: ISIS as a Case Study." The panel—the inaugural meeting of "The End of War Project"—was offered in memory of longtime SPL supporter Gerald B. Cramer '52, H'10. Banks offered a remembrance of Cramer's life and career.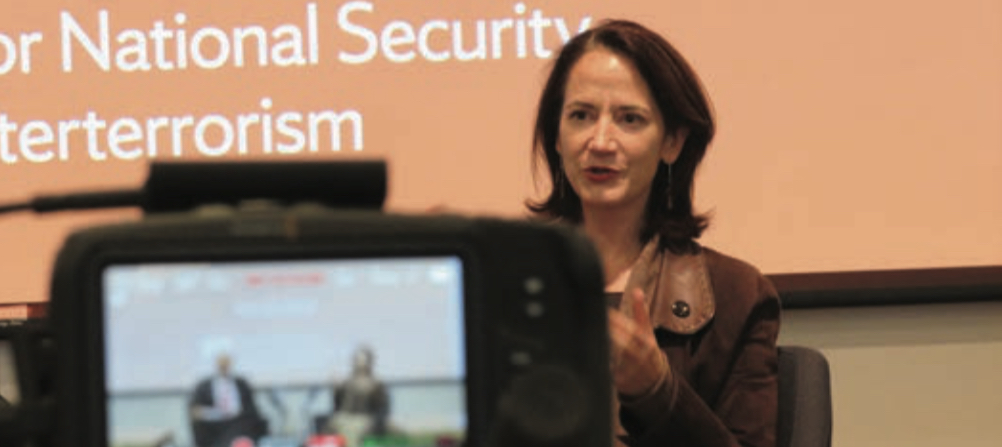 SPL Distinguished Fellow Avril Haines, former Deputy National Security Advisor to President Barack Obama and Deputy Director of the CIA, spoke at Dineen Hall on October 8. She discussed the structure of national security law and policy in federal government and her experience as both a recipient and provider of national security legal advice.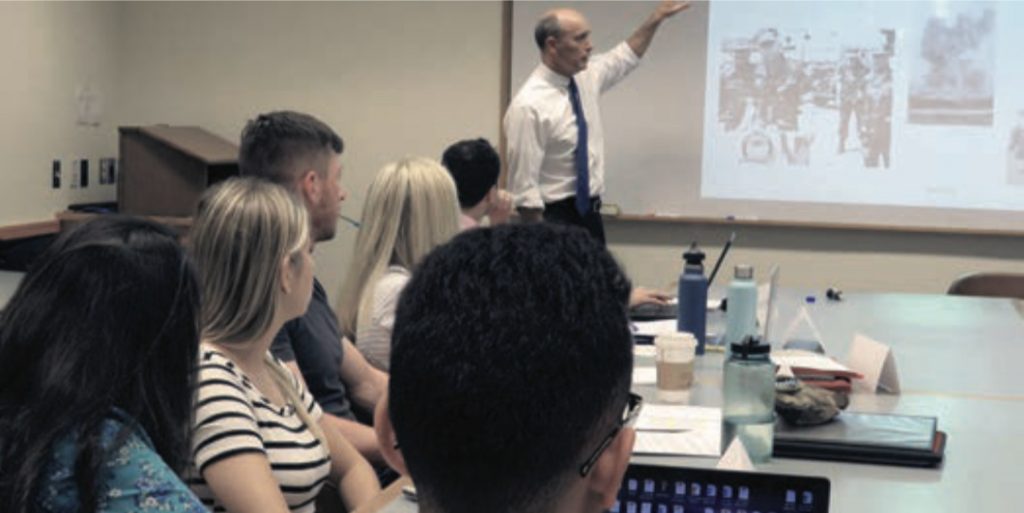 In October 2019, SPL Director the Hon. James E. Baker was named a National Academy of Public Administration Fellow. NAPA is a congressionally chartered academy providing expert advice to government leaders. Induction is considered one of the leading honors for public administration scholars.

The inaugural Carol Becker Lecture was held at Syracuse University's Lubin House in New York City on October 20. In front of a packed audience, award-winning journalist George Packer and Judge Baker discussed "American Leadership in the 21st Century." Dean Boise, University Trustee Christine Larsen G'84, and Carol Becker '76 were among the special guests.

During an October 22 visit to Dineen Hall, SPL Distinguished Fellow Steve Bunnell, former General Counsel of the US Department of Homeland Security (DHS), discussed careers in national security and the US government's approach to cybersecurity, which he helped to oversee at DHS.

University benefactor Andrew T. Berlin '83 (center) joined an Andrew Berlin Family National Security Research Fund Scholars Workshop in Dineen Hall on October 26. Subjects workshopped included nuclear deterrence, autocratization in Turkey, postconflict Sierra Leone, and the history of refugee crises.

In November, SPL announced a $500,000 research partnership with the Center for Security and Emerging Technology to assist CSET in investigating the legal, policy, and security impacts of emerging technology.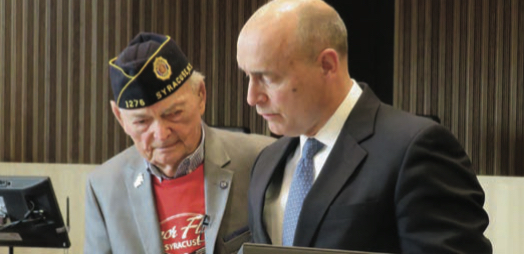 During SPL's second annual Veterans Day Celebration, 100-year- old World War II veteran Stan Stanley thrilled the audience with his tale of being rescued from a crashed bomber by the Dutch Resistance. Afterward, Judge Baker presented Stanley with a US flag recently flown over the Court of Appeals for the Armed Forces. Also honoring advocacy group Clear Path for Veterans, the celebration was organized by SPL, the National Security Student Association, and the Veterans Issues, Support Initiative, and Outreach Network (VISION).
SPRING 2020

The Hon. John E. Sparks, US Circuit Judge of the United States Court of Appeals for the Armed Forces, was a guest of honor in February 2020. Judge Sparks related his experiences as a marine, Deputy Legal Advisor in the National Security Council, Special Assistant to the Secretary of Agriculture, and military judge. The talk was co- sponsored by the Black Law Students Association.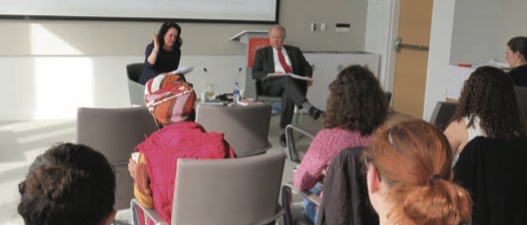 Special Inspector General for Afghanistan Reconstruction John Sopko was a guest in Professor Tom Odell's Rule of Law in Postconflict Reconstruction class on March 10. Sopko, Odell, and Professor Cora True-Frost L'01 explored lessons learned in reconstruction, fighting corruption, and peacebuilding in Afghanistan since 2001. Sopko's visit was part of the David F. Everett Postconflict Reconstruction Speaker Series.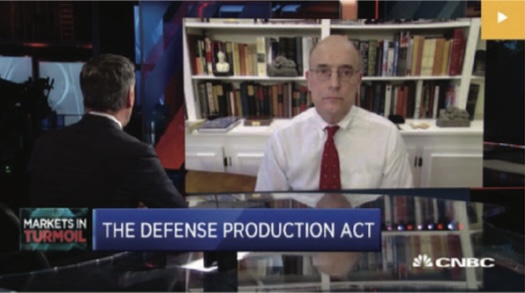 As the COVID-19 pandemic unfolded in April 2020, Judge Baker appeared on CNBC's Markets in Turmoil to discuss the Defense Production Act and the powers it gives to the president to ameliorate a public health crisis.
In his new book—The Centaur's Dilemma: National Security Law for the Coming AI Revolution, published by Brookings in June 2020—Judge Baker addresses how national security law should be applied to the emerging field of artificial intelligence. Learn more in the Faculty Books section on p54.