Forever Orange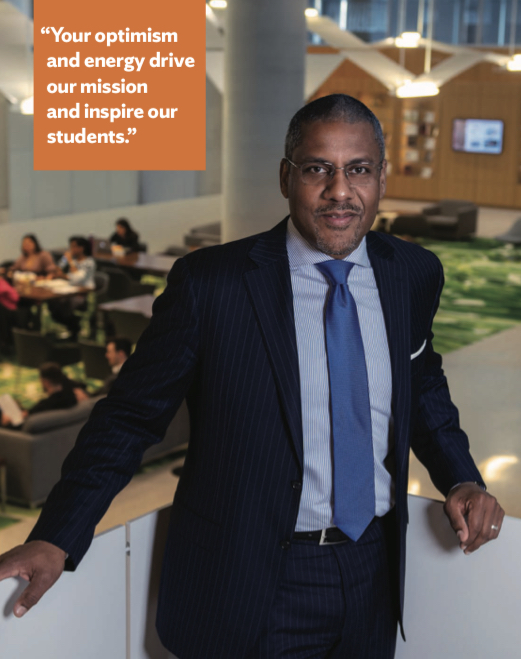 The College of Law boasts an ever-expanding, powerful alumni network: more than 11,000 law alumni in all 50 states and in 66 nations, making up part of a more than 250,000-strong Syracuse University alumni community. There's no doubt that the vast Orange Network has a truly global reach, but these numbers would mean little if our alumni weren't as thoroughly engaged with their alma mater as you are.
This issue of the Giving Book arrives at the end of a year of many social, political, and economic disruptions and inflection points. From my interactions with you throughout the year, it is apparent College of Law alumni throughout the world are meeting head-on the challenges of COVID-19, racial injustice, rapidly changing working conditions, and financial uncertainty.
Behind the scenes, the perspectives you have shared with me and our students have informed our agile and targeted responses. Your support has enabled us to provide our students the highest quality legal education despite the pandemic's many roadblocks, to support them financially, to advocate for them in matters of the bar, and to double our efforts to create a diverse, inclusive, and rich law school experience.
You have been willing and at the ready when it comes to fostering community across new virtual networks, too. In addition to celebrating your generous philanthropy, this magazine includes stories and profiles that illustrate the extent to which our alumni have gone above and beyond in visible support of our students who are experiencing an unusual and stressful year of law school.
In September, we kicked off the semester with a memorable virtual Law Alumni Weekend conference that connected more than 600 of our alumni, faculty, staff, students, and friends from all over the world and showcased the expertise and leadership of our College of Law community.
Since the beginning of the fall 2020 semester, more than 300 students have met online with you, to discuss your career paths, explore emerging areas of law, and discover the extraordinary lives you have built on the foundation of a Syracuse law degree. In doing so, they are discovering the potential that is also theirs to achieve.
Then, to make the second annual Syracuse National Trial Competition in October run smoothly online for 22 nationally recognized advocacy teams, we recruited a staggering 150 judges and evaluators. As always, you stepped up, and in doing so you made the College of Law an exemplar for virtual advocacy competitions nationwide. In this year's "The Many Ways You Give Back" feature, Kaylin Grey L'06 recalls the "blast" she had judging the SNTC. "I missed coaching trial teams, so I'm grateful I could get involved this way," she says.
Your optimism and energy drive our mission and inspire our students. Whether you serve on a board or committee, meet with a class or a student, mentor our students, judge or coach an advocacy competition, or supervise an extern across the country, you are making a difference in the lives and futures of our students. Thank you.
Wherever in the world you are reading this Giving Book, I want you to know that here in Syracuse we feel the powerful and positive force of our network of extraordinary alumni. In some ways, the coronavirus pandemic—and a significant strategic investment in technology—has brought us closer together than ever before. And together, we are stronger.
Very truly yours,

Craig M. Boise
Dean and Professor of Law