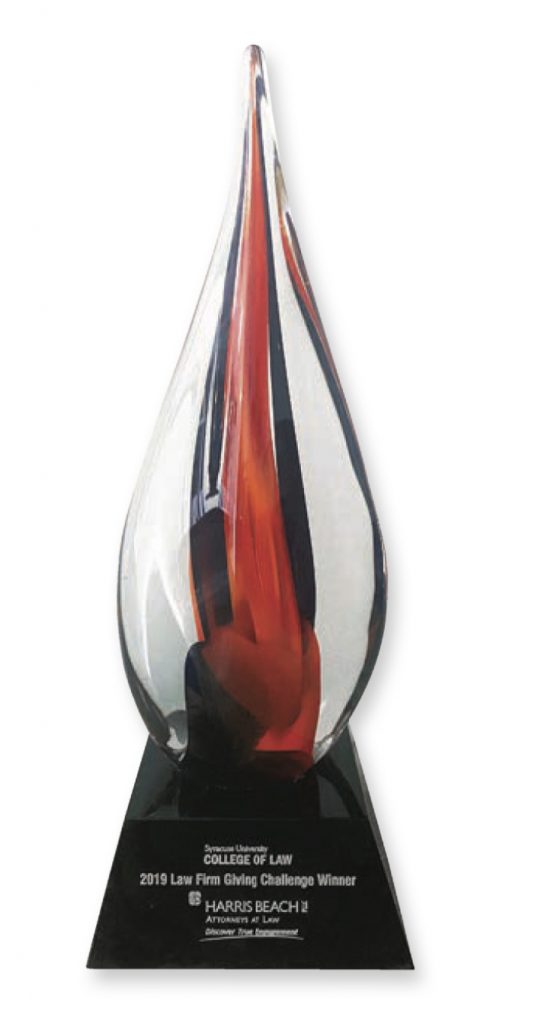 And … they're off! The fiscal year 2021 Law Firm Giving Challenge kicked off on Oct. 1, 2020, coinciding with Boost the 'Cuse, the University's annual Day of Giving. The Challenge is a friendly competition between Syracuse-area law firms, during which alumni working at each firm are asked to make a gift in support of their alma mater.
The idea behind the challenge is to continue to foster a culture of philanthropy among local Orange lawyers, help strengthen ties to the College of Law and, in turn, help meet the needs of local law firms and our legal community.
The rules are simple. Any size gift, to any College of Law fund, made during Syracuse University's fiscal year 2021 (July 1, 2020, to June 30, 2021) counts toward participation. Participation rates among Syracuse alumni at each firm are then tallied, with firms competing in three categories: large firm, medium firm, and small firm. Bragging rights are at stake!
Congratulations to last year's winners: Harris Beach (large firm category), Bousquet Holstein (medium firm), and Bottar Law (small firm). Will they take the prize again this year? Time will tell …
---
It's easy to get involved. To learn more, contact Assistant Director of Development Fritz Diddle at fjdiddle@law.syr.edu. If you have not yet made your gift, there's no time like the present!
---
Many thanks to all participating firms and firm challenge leaders, and to everyone who has already made a gift. Above all, many thanks to all our alumni who give so much of themselves in support of our mission. As the pages of this Giving Book make clear, the impact of the time and effort our alumni give to teach, mentor, connect with, and volunteer for our students is immeasurable.