DO YOU REMEMBER? HELP US CAPTION OUR MYSTERY PHOTOS!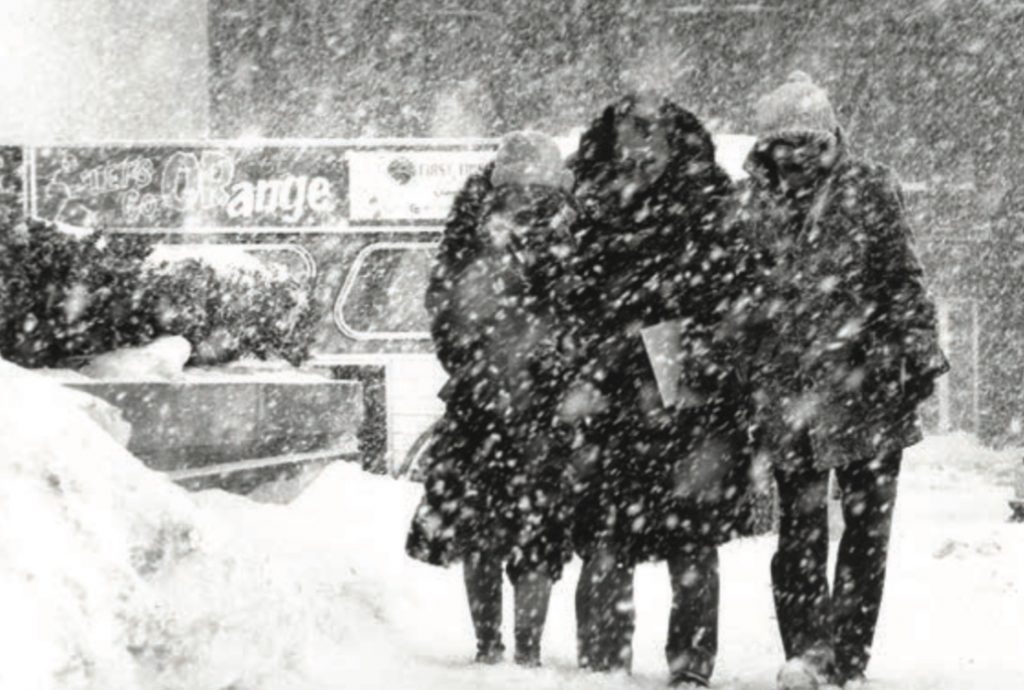 The College of Law's photo archive is a fascinating visual history of your alma mater, full of nostalgia, anecdotes—and a few mysteries. That is, some of our prints and slides lack information or captions.
That's where you come in. In this feature, we challenge you to help us recall the people and scenes in our mystery photos.
This time around, the scene is a snowy one that will be sure to bring back happy memories
of Syracuse winters! There are no notes on this print at all, but as it is in our archives, we assume the three people battling the elements are law students.
If you know anyone in this photo and/or where it was taken (Marshall Street?), please email
Director of Alumni Relations Kristen Duggleby at klduggle@law.syr.edu, and we'll publish what we discover in a future issue.
---
Here's to "The Roommates"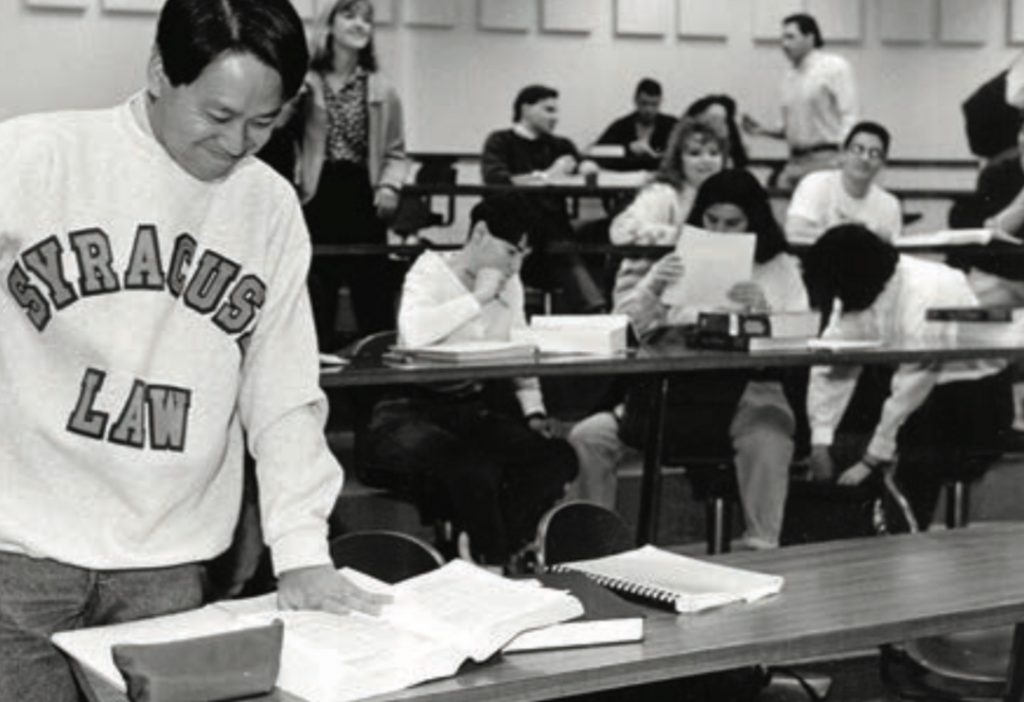 Thank you to Andrew M. Wong L'94 for helping to identifying some of the people in the 2020 Yearbook mystery photo: "I know a couple of the people in the mystery photo. Seated in the front row on the left is Dena Narbaitz, next to her is Jan Folena, and I would guess next to them is Amy Collini, all Class of 1994. They were good friends and used to sit together in classes. In the back row seated is, I think, Anthony Calabreze L'93."
Alumna Jan Folena L'94, correctly spotted by Andrew Wong, helps to complete the picture. The photo, she says, was taken in Professor Marty Fried's fall 1993 tax law class:
"The three women in the front row (L to R) are Dena Narbaitz, me, and Amy Collini. Many referred to us as 'The Roommates' as we shared an apartment and were rarely seen apart," explains Folena. "Dena, originally from California, now practices law and resides in San Francisco, CA. Amy, originally from New Jersey, now practices law and resides outside of Cleveland, OH. Also from New Jersey, I now practice law in Washington, DC, and live in Vienna, VA. 'The Roommates' remain friends and are in regular contact."
Folena adds, "I'm not positive, but I believe the gentleman in the Syracuse Law sweatshirt is Ken Koh. Behind Amy Collini, reaching down for a backpack, might be Tony Collazzo. The Class of 1994 was a raucous bunch, highly opinionated, and always striving to improve the standing of the law school. In those years the school soared above the rest in trial and appellate practice under the guidance of Professor Travis H.D. Lewin. Thanks for pulling this photo out of the files. It brought back good memories and fun times at the 'Cuse."
Mary Roberts Bailey L'82 has a different take on the identity of the student standing over the open textbook: "He looks like Takahiro Miyata, an international student from Japan. If it is him, that was how he would look when he was deep in thought. I was Assistant Dean for Students during Takahiro's time, and I knew him and the other international students fairly well. But I could be wrong. Takahiro would have graduated in either 1995 or 1996."
Thank you for helping us to enrich our College of Law archives!