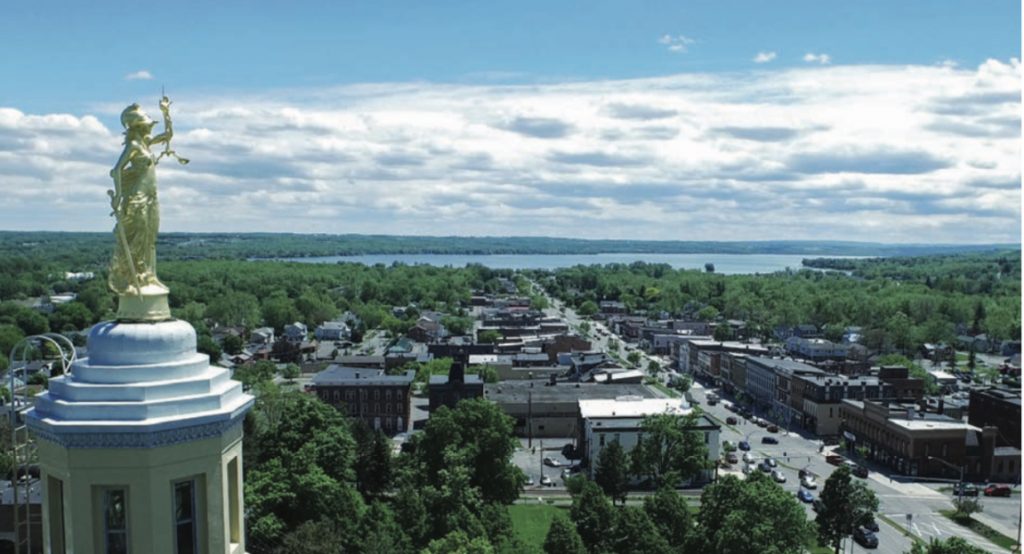 Given his deep ties to his community, John A. "Jack" Schuppenhauer's L'76 advice to law students should come as no surprise: "I'd say to students that the law is an honorable profession. It provides an opportunity for an attorney to help others and serve their community."
Jack has served his community as principal of the Canandaigua, NY-based Schuppenhauer Law Firm for 43 years. He was born a few miles from the picturesque Finger Lakes town, located on the northern end of Canandaigua Lake, attending Canandaigua Academy before taking a bachelor's degree from Ohio State University and an M.P.A. from Northeastern University.
Jack returned to Central New York to study law at Syracuse. He entered the legal profession in 1977 and started his eponymous law firm in 1981. Six years ago, looking to the future, Jack took on a partner—his daughter Erika, a 2009 Syracuse University graduate
with a double bachelor's degree in political science and policy studies and a J.D. from University at Buffalo School of Law.
Now, to honor their family's ties to Central New York, Syracuse University, and the College of Law, Jack, Betsy (his wife of 34 years), and Erika have created the Schuppenhauer Family Scholarship for College of Law students, through a bequest in their wills. "It's our way of giving back to the University and College and to acknowledge the future it provided to us," says Jack.

"It's easy as can be"
As a general practice law firm, estate planning, trusts, and wills are among the services the Schuppenhauer Law Firm offer their clients. To set up their own family bequest, Erika and her parents sat down to look over their wills and decide what legacy this communityminded family wished to leave. "I wanted my will to coincide with my parents'," says Erika. "Syracuse University was on the top of our list of organizations to bequeath to, and dad especially wanted to donate to the law school."
The next step was for the family to contact the College of Law Advancement and External Affairs team. "They walked us through the process," Erika continues. "It's as easy as can be, and now our wills contain specific bequests to the University and College."
Located along Canandaigua's historical, picturesque Main Street—surrounded by nineteenth century brick buildings with mansard roofs and decorative cornices— Jack says his law firm "has given me a great opportunity to get to know people in my community and become
involved in local organizations." Both Jack and Erika volunteer for local charitable organizations, and Jack has served as a part time Canandaigua City Court Judge since 1996.

"Having a small practice provides you with a real identity in the community, as opposed to a large firm to which you might commute from another community," Jack says, adding that both he and his daughter live only about a mile from their office.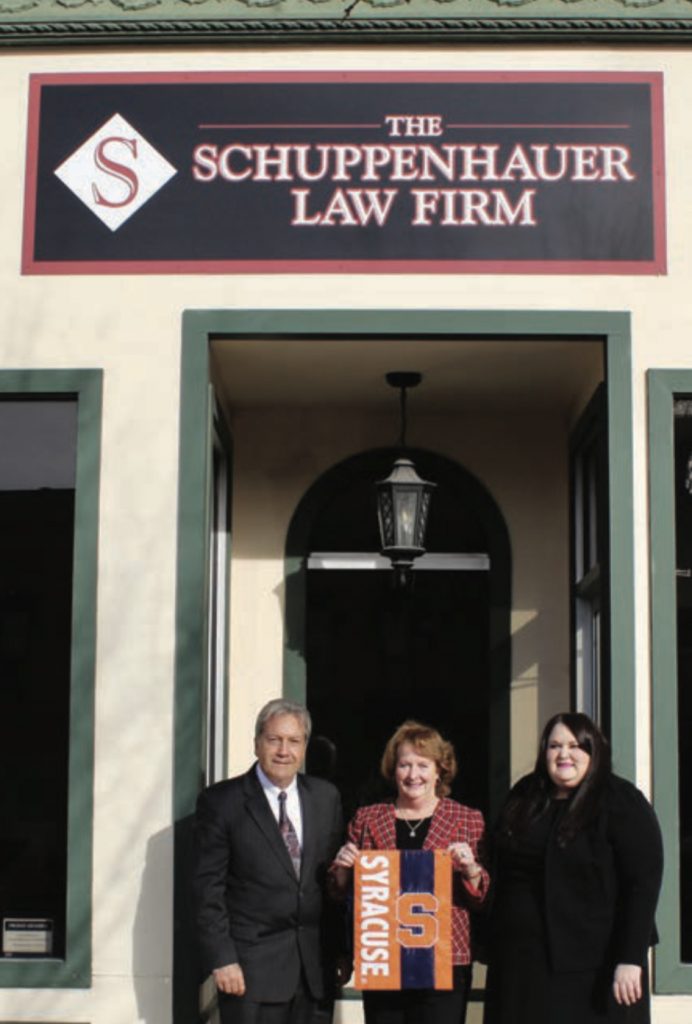 "Take that challenge"
A family law firm in a pretty Upstate lakeside town might conjure up images of times past, but Jack and Erika acknowledge that technology is evolving the way they practice. "People Google everything now," observes Erika. "Clients are internet educated, and they shop around. They are more likely to want 'drive by' legal advice these days."
"The nature of the law consumer has changed, and people are more astute, and more demanding," agrees Jack, adding that since his career started in the 1970s, government and statutory regulations also have dramatically changed the legal profession.
Although a relatively new law graduate, Erika says these technological changes appear to have accelerated since she passed the bar. Students, she says, need to pay attention to them.
"I graduated six years ago, yet even I did research in books. Everything is online now, and you have thousands of cases at your fingertips to comb through. Students definitely need to be computer savvy," she explains, adding that she's also had to learn how to be a businesswoman as well as how to provide general law services. "Students need to gain customer service skills and business acumen, especially for a small practice."
"Take every opportunity to learn something new every day."-Erika Schuppenahuer '09
Erika admits that when she started out at the Schuppenhauer Law Firm, she had much to learn about how to practice law and help run a business. Then again, her relationship with her mentor is a pretty solid one. "I've been so lucky to learn under my dad and to have
someone who has taken me under his wing, while being
very patient!"
Given her learning curve since graduating law school, Erika's own advice to law students shouldn't come as a surprise either. "Take every opportunity to learn something new every day," she says. "General practice challenges you every single day. So take that challenge and go at it. There will be bumps in the road, but you should keep going!"